With a brand new menu delighting restaurant goers, Zoya Sheftalovich discovers there's more to this North Shore favourite than a historic connection to one of Australia's most famous poets.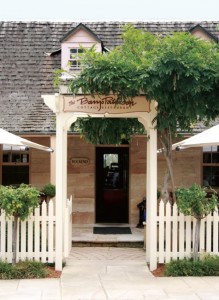 Banjo Paterson Cottage Restaurant has a charmingly warm feel about it. It is flanked by a beautiful Australian garden full of native Australian plants. Inside, the eating areas are bathed in sunlight coming from wall to wall windows overlooking the harbour.
It isn't hard to imagine the man himself leaning casually on a sandstone wall, smoking his ever-present pipe and taking in the view, or perhaps enjoying a hearty supper of kangaroo at one of the pristine white tablecloth draped tables inside.
Indeed, Banjo Paterson is a constant presence at the restaurant and one of its main drawcards. The restaurant has a close connection with the poet. He lived with his grandmother in the cottage for about a decade from the age of ten, in 1874.
It feels as if he has never left, and there is evidence of his presence everywhere. A bronze bust depicting him in his prime overlooks the front patio, his face peaks out from portraits, postcards and artfully arranged books written by and about him that are carefully strewn inside the restaurant. It is this sense of history that makes Banjo different – the atmosphere is deliciously ambient.
Driving through the front gates onto the estate, it's easy to forget that Victoria Road is only minutes away. For a place seemingly so out of the way and tranquil, it is readily accessible both by road and sea. There is plenty of parking on site, and the restaurant allows guests to use a private jetty suitable for all types of boats, including water taxi.
Banjo's plush upholstered chairs are heavenly to sit on, more comfortable than the hard wood so popular in eateries today. The staff are helpful and efficient. For a fine dining experience, Banjo is also reasonably priced, entrées range between about $14 and $20, and main courses around $30 to $35. The extensive wine list makes it very difficult to settle on just one glass, and reasonable prices mean you don't have to.
Groups of all sizes are treated to exceptional service. An intimate family gathering can be accommodated for with a private room for a small group of people, and up to 300 guests can enjoy the bushland surrounds at a wedding.
Eating here is worth it for the historical experience, but the gastronomical one is perhaps even more evocative.
Chef Marco Bonanni runs a tight ship, changing the menu four times a year. The newest variations came in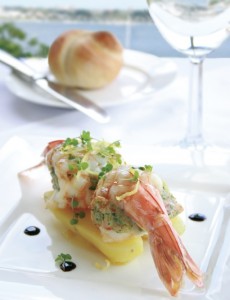 early March, and the selection is heavenly. For entrée, the prawns roasted with gremolata are divine – big, juicy and bursting with flavour, and stuffed with a delicate prawn mousseline that melts on the tongue.
For the main course it's hard to go past the seared kangaroo loin, Banjo's signature dish, which has been on the menu for the last three years. The loin is served on roasted vegetables with chorizo sausage – an inspired creation. This isn't a dish created for the sake of being different and feeding tourists with a penchant for the adventurous. It is delicious and tender, beautifully presented and absolutely mouthwatering. The rich taste of the kangaroo meat is highlighted by the spicy chorizo and tempered by hearty diced roasted vegetables.
The food is delicious and the surroundings are stunning. Discover (or reacquaint yourself with) this harbourside gem. Click here for more information.