His handlebar moustache was once rumoured to be insured for 13 million dollars and he used to hang out with George W. Bush. A close friendship between the two was revealed in the 2000 presidential election when a driving under the influence charge resurfaced and Bush explained it away by saying: "Yeah, but I was out with John Newcombe". What he's most famous for though is a mean forehand and a serve-volley combination that has earned him 25 Grand Slam titles.Zoya Sheftalovich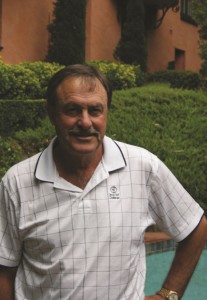 Newcombe is a sports all-rounder – gifted at cricket, athletics and tennis. Despite pressure from schoolmates and teachers at Shore, Sydney Church of England Grammar School in North Sydney, he bypassed cricket and chose to devote himself to tennis.
He started young, only eight years old, when he first picked up a tennis racquet but he stresses his parents, George and Lillian, did not force him into it. He says they were not typical tennis parents like Demir Dokic and Richard Williams (father of Venus and Serena), who are famed for shoving their children into the spotlight and pushing them to tennis glory.
"My parents were a great support, but I can't say that I was driven like some kids today. It was my choice to do what I was doing."
From a young age, Newcombe liked being noticed and known. "I just had that instinct to want to compete. You play competitions as you go along and when you start going well, people start to sit up and take notice. I won every age group as I came up. That's how you get noticed and get better."
Although he is used to winning, Newcombe is also well-known for his grace in losing. "My whole creed was that I would prepare myself as well as I could for a match and I would go out onto the court and give myself 100 per cent, physically and mentally, and if I won, I won, if I lost, I lost."
His mental strength is legendary, and Newk, as he was dubbed, often came from behind to defeat an opponent. He believes this was a result of his determination to stay positive. "One of my hates in life is negativity. It is like a poison; it is an enemy. So negative thoughts and negative actions, I have always thought, just make you unhappy. It is much more fun finding something positive in everything you do."
Even the negativity of current events in the world is all but banished from the Newcombe household. "If you turn on the radio or television or read the newspaper, everything is negative. There is a killing there, an earthquake there. And it is just bad news all of the time, so I hardly watch any television unless it is sport or a news program I want to watch."
Newcombe's most memorable match was the final of his second Wimbledon in 1970. Pitted against fellow Australian veteran Ken Rosewall, he was playing for a world ranking in the top 4.

"Probably 90 per cent of the crowd wanted Ken to win and that was a little bit intimidating and a little bit frustrating. That is what got to me – when you are in a foreign country and the crowd is 100 per cent against you and they are quite vocal. You just shut it off. You use that energy to stick it up them. To beat the guy is the best way to shut them up."
He can't put his finger on a career high but fondly remembers buying "a rundown dude ranch" in Texas with two other people and converting it into the tennis ranch he still owns today.
"It was a good place to bring kids up [in]; they loved spending half their time there. When they were there, they had two and a half months of summer, and when they came back [to Australia] they had summer here… They thought it was terrific."
The Davis Cup has been a major part of Newcombe's life. He was a member of four winning Australian teams and later reprised his glory days with a post-retirement captaincy.
"In 1994 the position of Davis Cup captain became open, when Neil Fraser resigned, and Tony [Roche] put our names [down] to be captain and coach. We felt that together we could create something that is pretty special."
Still, he is disappointed with some of the changes he has seen in tennis since the days of old, when he won his first Wimbledon in 1967 and received a 50-pound money order as a reward.
"Tennis has become a lot more professional as time has gone on. There is a tremendous amount of money in the sport and that tends to make things a little more tense. You get agents involved and managers; probably it is not as relaxed and friendly as it used to be."
Apart from his impressive contribution to the world of sport, Newcombe has been involved with charity work for many years. He once served on the board of Care Australia and is the founding member and current patron of the Starlight Foundation.
"A lot of my efforts were put into Starlight. Rather than be involved in a lot of different charities, I thought it was good to put that energy into one."
The North Shore has been home to the tennis legend for many years. Apart from Shore Grammar School, he also attended Sydney Grammar School, St Ives Preparatory School at St Ives and has been a Pymble resident for the last 35 years.
"I like the suburban life; I just wouldn't enjoy living on the east side. Some people enjoy that, apartments and coffee shops and that. I like to have a bit more open space, I like trees and I like the slower environment… It is more relaxing."
Newcombe reminisces about growing up on the North Shore, remembering his early school life. "When I drive along Mona Vale Road, past Grammar Prep, I still have memories of big orange orchards, which are ovals now… The orange orchards got me the cane. Six on the bum. You were forbidden to go down to the orchards, so we always used to go there and have orange fights. You would get sprung and then you would get six."
Nowadays, Newk is more likely to be seen on a golfing green than a tennis court, and at his farm in Wollombi, than his property in Pymble. "Ange [Newcombe's wife] loves it. She does bio-dynamic farming with vegetable gardens and fruit trees. We have a lovely chicken shed and a couple of horses and some half a dozen cows."