An undiscovered jewel in the unabashed Gulf, Oman is an Arabian land rich in culture and more modern than it's given credit for, discovers Arti Kumria
Heading south out of Dubai, the traffic eases and the construction stops. Almost immediately. The land becomes wide and expansive. Workmen in cranes give way to scorching dunes of sand softly rolling into the horizon. But driving is still a relentless charge to get to where you're going as soon as humanly possible. It is the Middle East, after all.
 The land of frankincense is a relatively undiscovered jewel in the unabashed Gulf.
We realised our hire car was built for safety not speed when hordes of impatient locals drove perilously close to our rear bumper. Tailgating is annoyingly a universal sign of road rage. Between this and the insane beeping that our lean, mean driving machine felt was appropriate if we so much as thought about the speed limit of 120 km/h, my travel buddy and I were not quite feeling the holiday vibe.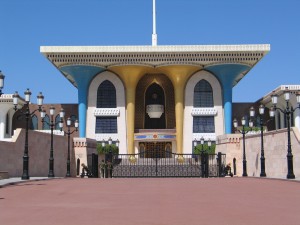 Crossing the border into neighbouring Oman, with its dramatic peaks and glorious desert, we finally breathed easy. Clean air, unaffected by the dust of construction debris, revealed endless blue skies and magnificent rocky mountains. Driving down the coastal road to the capital Muscat, Oman's small towns of wide tree-lined streets and simple Arabian villas were like little oases between long stretches of vast, empty terrain.
The land of frankincense is a relatively undiscovered jewel in the unabashed Gulf. Boasting 5,000 years of culture, the Sultanate of Oman only opened to tourism in 1987 after the nation of 2.8 million was isolated by the previous sultan to avoid any cultural corruption that newly discovered oil wealth may have brought. The country is nestled on the south eastern tip of the Arabian peninsula and is a haven for experienced travellers wanting something completely off the well-worn tourist trail.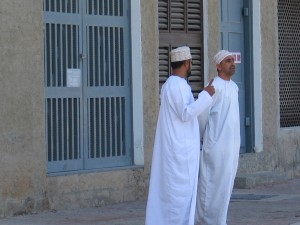 Sultan Qaboos bin Said, in power since the 1970 bloodless coup that overthrew his father (who then lived in exile at London's lavish Dorchester Hotel), has set about modernising the country without compromising its character. He has also eased the social restrictions in place under his father's rule, leaving the Omani people relatively free and remarkably liberal compared with those in their Gulf neighbour Saudi Arabia and many in the United Arab Emirates.
Muscat is home to over half a million of these genuinely friendly Omanis. The surprisingly quiet capital comes alive (well, as much as is possible in Oman) in the evening after the temperature drops from searing highs of up to 45°C. But we couldn't miss the Sultan's Palace in the daytime, which radiates glorious colour when sunlight strikes its gold and blue pillars.
Here, Omani men in traditional white dishdashas stroll along the waterfront with their abaya-wearing wives.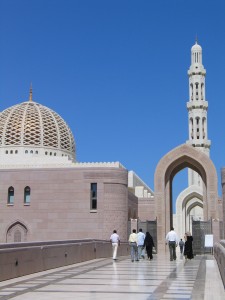 Located in Old Muscat, the back entrance of the palace is flanked by the simple yet elegant Al-Mirani and Al-Jalali forts that were built by the Portuguese in the 16th century. Although it's not possible to visit either – Al-Mirani is not open to the public and Al-Jalali is so secluded it cannot be reached by land – the view is worth the drive if only to imagine how Muscat Bay, with its forts and natural defences of rocky hills, made the old city virtually impregnable.
In nearby Mutrah, the famed souq sells everything from antique artefacts and spices to silverware and frankincense. The entrance to this bustling Arab market is on the Mutrah Corniche, which overlooks the harbour and port area. Here, Omani men in traditional white dishdashas stroll along the waterfront with their abaya-wearing wives. In keeping with local custom we tucked our cameras away – it's best not to photograph the Omani people without permission, especially women.
We were caught off guard at the city's Grand Mosque, however. We arrived at the beautiful example of modern Islamic architecture just before prayer time. Two western women intent on photographing the Sultan's most extravagant gift to his people as Muslims filed in for afternoon prayers did not a happy security man make.
 Driving off the highway, we crawled to a stop in what we thought was gravel. It was sand. And we were stuck.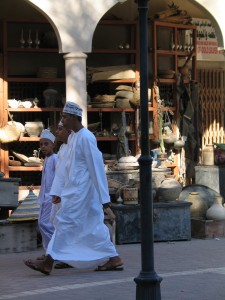 Although we were covered from head to toe, we were waved aside as a bemused Omani tried to explain that visiting hours were over. So we missed the breathtakingly rich main prayer hall where worshippers pray beneath the world's largest crystal chandelier while kneeling on the world's largest hand-made Persian carpet that took 600 Irani women four years to weave.
But our next stop made up for it. After driving inland to Nizwa, the old capital now dominated by its 17th century fort, we were treated to a traditional Eid celebration to mark the end of the holy month of Ramadan. It seemed the entire town had come to the centre to watch two lines of Omani men in their elegant dishdashas bear swords as they chanted and swayed in the ritual sword dance.
No trip to the Middle East would be complete without seeing the desert. On our way back to Dubai, we spotted golden sand dunes and just had to stop for proof that the desert really was as majestic, romantic and serene as we'd imagined. Driving off the highway, we crawled to a stop in what we thought was gravel. It was sand. And we were stuck. Cue mild panic from your resilient writer.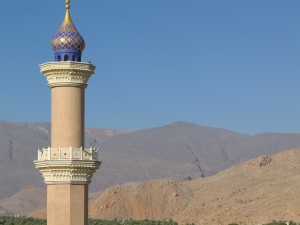 As we stooped to investigate how deep a hole we had dug for ourselves, a 4WD appeared. Out stepped an affable local keen to give us a tow. His wife, clad in a colourful floor-length abaya and unusual metal nose and forehead covering, followed soon after. Eagerly holding out her hand to greet us properly, we realised she was as curious about us as we were about her. She smiled at the two hapless women before her as three children peered, fascinated, from the back seat.
Standing on the edge of the desert, we looked worlds apart. A traditional Omani family and two intrepid travellers. But true to the kind, warm character of these Arabian people we were simply fellow pilgrims stuck in the desert sands of a land of long ago.