Chadwick Models' rising star gives an insight into the glitz and glamour of the fashion industry, how it's been to start her career so young, and how she stays as cool as she is.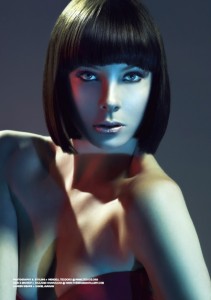 Sixteen-year-old Lauren grew up in Greenwell Point, Jervis Bay, and initially dreamed of being a pro-basketball player. "I began playing basketball at the age of six and really loved it," she says, "but when I got to about the age of 12 lots of people encouraged me to try out modelling. I've never been shy around a camera or a camcorder; I've always loved the spotlight so I thought it would be fun to see what it's like."
Lauren began by sending photographs into agencies. It wasn't long before work started coming in and, for a while, she decided to balance basketball with her new job. However, it proved too much after a while and she is now working full-time with premier agency Chadwick Models.
For someone to start out at such a young age might have some wondering if she found it a difficult thing to do in the beginning, but Lauren found life in front of a camera came to her quite naturally. "I was never really nervous at the start," she says. "With every fashion shoot I did, I started to meet the same stylists and photographers and today consider a lot of them very good friends. It's wonderful to arrive at a shoot now and have friendly faces around you. It's the best job you could ever have."
Modelling has brought Lauren to the pages of Harper's Bazaar and the catwalks of Australian Fashion Week, yet the enthusiastic teenager keeps a level-headed attitude towards it all. "Family and friends are very happy for me but they don't make a fuss and I like to keep it that way," she insists. "I've been doing it for so long no-one pays too much attention or holds it up as very different to having any other job. They definitely like it and are proud of me but I love that no-one makes a big deal out of it because it helps me stay down-to-earth about everything."
Although the industry can often take flak for weight issues, Lauren helps to dispel such criticism with her extremely balanced approach. "I make sure to eat plenty of small, healthy meals throughout the day," she says. "I walk a lot and drink bottles and bottles of water constantly. I love my sleep, I could sleep all day and all night, so I get at least eight hours every night.
It's so important for anyone thinking about modelling as a career to eat healthily and never think you need to look like a twig to get work. Looking after yourself properly, studying the industry and being passionate about fashion are the most important things."     Lauren recently completed catwalk work for cutting edge Australian fashion designers Wayne Cooper and Alex Perry and says she adores everything about the catwalk experience, from getting to wear the fabulous clothes and the hum and excitement backstage, to the interviews behind the scenes with Fashion TV.
To date, the brunette beauty has worked with Akira Isogawa, Charlie Brown, Trelise Cooper, Bowie Wong, Oscar & Elvis, Marnie Skillings, Bruno Schiavi & Delta Goodrem and One Fell Swoop among others.
Looking at Lauren's stunning brown bob and fringe today, it's hard to believe that her natural hair colour is blonde, but the chilled out teenager has changed her look a number of times over the last few years. "I've gone from naturally blonde," she explains, "to having blonde highlights, to short, brown hair that got darker and darker before going back to long and blonde, until about four months ago when I got this new cut. I like this haircut a lot, it's edgy and high fashion, which is perfect for the work I'm doing at the moment."
Lauren is currently concentrating on high-end work and recently completed a two-day shoot for Harper's Bazaar. "I was wearing earrings worth $300,000 – that was incredible. They had a security guard present for the earrings alone! The clothes were beautiful, too – Gucci, Louis Vuitton, Josh Goot, Nicola Finetti, Versace – I wanted to keep them all!"
Lauren's planning to test the waters overseas in the New Year – in New York, specifically – to meet with Trump Model Management and Ford Models. In part preparation, she spent two months in New Zealand with Clyne Management earlier this year. "I'm used to having my friends and family around me so it was good to try the travelling thing," she says. "I'm really looking forward to New York and would definitely consider staying overseas for a while, so hopefully it will all go well." We have no doubt it will.