The Sydney-based jewellery designer talks about life in Los Angeles, working with Janet Jackson and Annie Lennox, the lure of Paddington, and her hopes for the future of her highly successful business.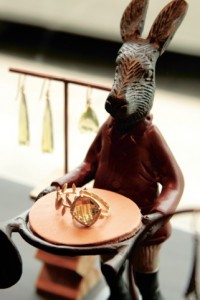 When she was in her early twenties, Melissa Harris was unsure of the direction her life should take. In her second year of a prestigious fashion design course at East Sydney College, she decided a future of fashion catwalks and backstage politics no longer appealed.     Instead, Melissa hopped on a plane to Los Angeles and mastered the art of creating decapitated heads.
"I was always artistic and I decided I wanted to work in the film-making business," says Melissa, who travelled to the US to pursue make-up design, even though she had no prior experience in the area. "So when I got there I did a one-year course. And we learnt all sorts of things, like creating decapitated heads, special effects, theatrical make-up, and some of the basic make-up principles for fashion photography.
"Then I sort of lucked out in getting on one of the Nightmare On Elm Street movies during the '80s," she continues, "when it was all about scary stuff. And the work flowed from there."
Today Melissa is one of Australia's most highly regarded jewellery designers, boasting unique and timeless collections that have captured the attention of celebrities and fashion-conscious people the world over. But it was a professional turn the designer says could not have occurred without her initial 16-year career as a make-up artist. This allowed her to build a famous client base, and led to the realisation that a childhood "hobby" could become a lucrative business venture.
To occupy her time between film work, Melissa decided to learn the craft of jewellery design and production. "In the film business there's always a lot of down time," she explains, "so I went and studied with a great contemporary jeweller, Valerie Mitchell, at a place called Barnsdall Arts Center in Los Angeles. The rest was pretty much self-taught. In between films I would make jewellery, then I'd go back to working on films again, and then at a certain point they began to cross over a bit."
With even the most simple make-up tasks requiring up to two hours in a trailer each morning, which could sometimes blow out to eight hours if working on a special effects-based film, Melissa had plenty of time to bond with actors and musicians. Comparing the role of a make-up artist to that of a trained psychologist, as "you're often the first person they see in the morning", it was this close association with people like Janet Jackson and
Annie Lennox that provided Melissa with her first business profits. "I began to get lots attention at work because my jewellery eventually reached a point of refinement where people just wanted to buy it off my body," she says. "They would say 'Oh, I really like that, where can I get it?' so I would sell it directly, meaning I instantly had famous clientele."
In 1989, Melissa featured in a special spread on emerging artists in the Los Angeles Times Magazine, resulting in her work being supplied to 25 galleries across the US, including the Whitney Museum of American Art Store in New York. Hiring an agent, she began to turn down jobs in film to concentrate on jewellery design, a welcome career move she says "came into being completely by accident".
Melissa returned to Australia in 1995. Opening a store on Crown Street in Surry Hills, she was very determined to make her mark by introducing a new style of jewellery in Australia.     "The jewellery market here is quite different," she says. "It quickly became apparent I didn't really have the market here that was available in America, so I decided to create my own by opening a retail shop. "     Describing her work as "modern, with a slightly whimsical edge", she believes it's important not to base jewellery on every trend that passes as people intend to have pieces for a longer period of time. Rather than releasing her collections seasonably as in the fashion industry, her theme-based collections are inspiration driven, drawn from art, architecture and nature.
Melissa's store is today based in Paddington, which she prefers due to its "village sort of atmosphere". Within the next year she intends to travel to America once again to get in touch and reconnect with some of her former famous client base, which included Susan Sarandon, Elton John and Jodie Foster. Due to the long distance, Melissa says it has been difficult to maintain communication with such people.
"I'm planning to explore the option of having a distributor at some point over there," she explains. "Where I'm located at the moment makes it a bit too difficult to stay in contact with those names, although Alanis Morissette is a current client.
"Initially I'm looking at being distributed by an America-wide and also well-recognised name such as Barneys New York, but I haven't dismissed the idea of being supplied to a retail outlet. We'll just have to see how it goes when I get there."