Johanna Griggs talks about hosting in Beijing, maintaining normality in her life and sports stars' egos.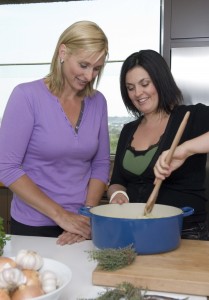 You would expect Johanna Griggs to be a diva. After all she's tall, attractive and has a highly successful television career. You'd expect her to be late, conceited and a tad demanding.
Yet Griggs arrives at the interview at the Northern Beaches restaurant on the dot. She flashes her trademark stunning smile, blue eyes sparkling, warmly extends a hand and greets you like an old friend.
Griggs is dressed in a peach coloured T-shirt, jeans and no make up – she doesn't need it – she has a natural healthy glow.
She breaks the ice with the admission that she rarely has time to go to restaurants – the last time she went to one was for her younger brother's farewell last year. She orders a chicken Caesar salad – no special demands.
Griggs is currently preparing for the Beijing Olympics in August, where she will be co-hosting the event on Channel Seven with Bruce McAvaney and Matthew White. In the lead up to the Games she will also be hosting an Olympics show for ten weeks, which will focus on /participating/ the athletes and their stories.
"We're trying to get people to know a bit more than just the high profile athlete's stories and give them a sense of who they can look out for and watch with a lot of interest," she says.
Although this is Griggs' fifth time hosting an Olympics, the Beijing Games have a special significance to her.
"I think it's the last time we're ever going to have an Olympics in our timezone … they're only two hours behind," she says. "I think this is the last Olympics that Seven's got as well, [so] it's kind of become quite a nostalgic one. So we're going big on it!"
While it may look effortless on air, there is a huge amount of preparation that goes into hosting an Olympic Games, and for Griggs the work is well and truly underway.
"About six months ago we got [a list of] all the sports. Then we [write] the breakdown of who we think is going to make the team … then you can keep an eye on what they're doing, what events they're going in around the world and how they're preparing," she reveals.
"Some of the [final selections] aren't named right up until the last week or two before they actually land in Beijing. So you have to prepare for the possibilities."
So, how well prepared is Griggs feeling?
"I probably over-research, but I figure it's better to do too much than too little," she says.
It's something she learnt from co-host and mentor, Bruce McAvaney. "I remember him saying, 'the key for you if you're going to earn respect is you have to make sure you're well prepared and do your research – that way you'll never be caught out'. And he's absolutely right. That's probably the best advice I ever got."
Besides her hosting role, Griggs regularly writes for New Idea magazine. It is her 12th year hosting Better Homes and Gardens and she did a pilot before Christmas for a Better Homes and Gardens radio show, which is yet to be confirmed.
She is also a director on the board for Events NSW, which works to bring major tourism events to NSW and an ambassador for Business Club Australia, where she uses her sports background to help negotiate trade deals for Australia.
And then there's her family. Griggs lives on the Northern Beaches with her husband Todd, a builder, two sons, Jesse, 12, and Joe, 11, and two dogs – a Shitzu-Jack Russell and a Maltese Terrier.
"It's quite amusing. I feel like our dogs have been transported into the land of the giants. My husband's six-foot-five, I'm six-foot and both the boys are big, strapping boys," she laughs.
Despite her hectic schedule, Griggs still manages to make her family a priority. "I don't go to events and I don't go to anything that I'm not required to by work, unless it's a charity gig or something."
"If I'm not there in the morning I try to be there at night so that my kids can have the stability and the routine – I think that's really important to them that you're a mum first."
Mum, or otherwise, Griggs leads anything but an average life. The Beijing Olympics will be her second hosting role at an international sporting event this year, after anchoring the Australian Open in January. As a host, Griggs has worked with and interviewed some of the biggest names in sport.
She worked with tennis great Jim Courier at the Australian Open for the third time this year. Not that working with a former world number one is always smooth sailing.
"Jim can certainly have his moments. I would not pretend that he cannot be very testy with everyone. And I think it's because he's just so used to being a mega-star."
"So he's a really funny character in that sense," she says.
"I stirred him on the last day of [the Australian Open] this year, because he was coming to the photo shoot and he was being quite diva-like, and he said, 'you can't say that to me!' and I said, 'Jim, in Australia anyone can say anything'," she grins.
"The second anyone takes themselves too seriously, I'll be the first to pull them up."
Not that Griggs hasn't dealt with her fair share of sports stars' egos in her career. Like the time she was challenged by John McEnroe in front of a thousand people during a breakfast interview – and lived to tell the tale.
"You could not believe how much preparation I'd done – I'd read about six books on him, I'd gone back through about 15 years of articles … [During the interview] he stopped and he pulled me up and said, 'you're too young to know all this about me – let's see how well you've done your research?'."
Luckily, Griggs answered correctly and McEnroe decided to give her a fair go. "From that second he completely changed – he was absolutely charming [and] he showed a side to him that I certainly hadn't seen."
" [I asked] him things like, 'what happens when you tell your kids not to throw a tantrum or treat people with disrespect?' and he was just hilarious – he started laughing and said, 'Hmm, interesting that you say that, I'm kind of going through that with my kids now'."
The sometimes bizarre and downright difficult behaviour of elite sportspersons clearly takes some getting used to, but it's something Griggs has handled with humour and poise.
One of her most daunting earlier interviews was with Andre Agassi. "[He] would walk into the studio and would not acknowledge you … and the second you introduced him he would turn around with his beaming smile and he would just lay on the charm," she says.
"That was one time where I rang up Bruce [McAvaney] and said, 'Bruce, I just need some advice here – have I done something wrong?' And he just laughed and said, 'he's about to come into an interview here, come and watch it'. So I went and I sat in the studio and he did exactly the same thing."
"Yet out of all the players I probably admire him [most] – because he's just professional. You realise these guys get asked the same questions a thousand times a year, so he's not going to waste any energy with small talk."
In an industry where on and off screen personas can differ so greatly, Griggs has formed some firm friendships. She counts Seven News anchor Chris Bath and Dancing With the Stars host Sonia Kruger as her closest friends in the industry.
"I think in 15 years [in television] you realise there's two lots of people – there's people who'll do anything to get ahead, and there's the ones that actually are really decent people [who] treat their crews, producers, bosses and co-workers with a great deal of respect – and they're the ones that I probably form more friendships [with]."
Perhaps karma has played a part in Griggs' own longevity in the industry, since she herself follows the philosophy of treating people well.
Griggs' ability to remain grounded despite her success is something that she attributes in part to her family and friends.
"People sometimes think that they can't just be straight up and honest with you – and the ones that have known you for a lifetime – they don't care. They tell you exactly what they think, which is exactly what you need."
"My husband's hilarious. One day during the tennis this year I said to him, 'Did you catch any of the tennis?' and he just started laughing and said 'What?'. He said, 'Joh, when you come out to a building site and you stand there and watch me work for a day, well then I'll watch you on TV'."
While to her family and friends, Johanna Griggs is just 'Joh', there is no doubt she has had an incredible career.
Griggs' proudest career achievement to date is being the first female solo host of an Olympic coverage in Australia for the 2002 Salt Lake City Winter Games.
"[The Salt Lake Olympics] was a fantastic opportunity and it's why it was important to do it well, because it was a chance to say, 'You know what – you can have a female fronting this – and guess what? You still get the same information'."
While Griggs is working in a male-dominated industry, this is surprisingly something that she has never found to be a challenge.
"I think maybe the sport background [helped] … and maybe just my upbringing. We were very much taught to believe in ourselves and don't say something unless you're going to back it up."
"I've had some great stoushes over the years where I've fought for something that I've believed in with my bosses, but because you can back it up they actually come away respecting what you've said."
With 15 years in the industry behind her, Griggs has also proven she is tough enough to survive in the world of television.
One compliment she will never forget was made during the Salt Lake City Games, when one of her Channel Seven bosses called her at her hotel room and asked her to have a drink with him.
"I came down and he said, 'I just want to say, well done'. I said 'What for?' and he said, 'We used to just throw you into the worst situations we could and we used to sit back and we'd laugh and we'd say 'Let's see her get out of this.' And he said, 'Lo and behold mate, not only did you get out of it but you've gone on and left us all behind'."
And indeed, Johanna Griggs has had the last laugh.