If you think about the forthcoming summer in Australia, there are a number of favourite activities that could easily sum up the season. For instance: long warm days frolicking at the beach, friends over for an impromptu BBQ and a cold beer on a hot day in front of the television, watching the cricket, with Richie Benaud commentating, of course!
Kylie Field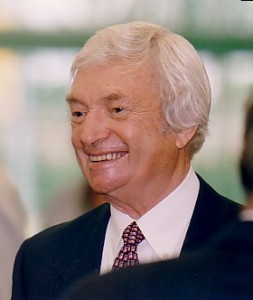 At 77, Benaud has been the voice of summer in Australia since the late 70's. Currently in England for the northern summer cricket season, Benaud shows no sign of slowing down, in fact he has been covering, for a newspaper, the six Test matches between England, South Africa and New Zealand, which he says has been quite useful because Australia plays the same two teams in Test series in the coming 2008/2009 season.

"We work in Australia for six months from October to April, and then we are in Europe from May to the end of September. I worked on BBC TV for 36 years, and seven years for Channel 4, before the rights were bought by Sky, who have just had their contract renewed until 2013.

"1960 was my first working northern summer in England, when I covered the South African tour. Then in 1963, I had my first year with BBC commentating on television when the West Indies, under Frank Worrell's captaincy, played a five-match series. In 1968, Daphne [Benaud's wife], and I started in business as R and DE Benaud, which later became Benaud and Associates Freelance Media and Sports Consultants. We started working for Channel 9 in 1977 and will be with them for the next two Australian summers," he says.

Asked what has been the highlight of his career as both a player and commentator, Benaud says: "From a playing point of view, the greatest ever series was one in Australia in 1960-61, when the West Indies toured and we went through what was known as the 'Tied Test' series. At the pre-match practice on 8 December 1960, Sir Donald Bradman asked if it would be all right if he came to the team meeting we always had the night before the game because he wanted to pass on a message from the selectors. He was the Chairman; the others were Jack Ryder and Dudley Seddon."

The message from The Don was short and simple recalls Benaud. "The selection committee would be looking in kindly fashion on the manner in which the players played the game throughout the series, and it stood to reason that they would be looking in unkindly fashion on those who didn't do the right thing.
"Sir Donald always came to the Australian dressing room at the tea interval each day. On the last day, Alan Davidson and I were sitting there with our pads on needing in all 233 to win. We were in fact 6/100 and facing a smashing defeat. The Don said: "Well Richie, what are we going for – a win or a draw?" I said 'a win of course.' He just kept looking at the ground and said in his dry fashion, 'I'm very pleased to hear it.'

Benaud says one of the highlights of his career as a commentator was in England in 1981, with the 'Botham Series'.
"It was the most exciting until it was overtaken by the 2005 battle where England regained the Ashes in six superb Test matches, after not having held them for 18 years. The series contained some of the most exciting cricket I have ever seen," he says.
"From a personal point of view the Old Trafford Test in 1961, where we were looking at defeat on the last day when England had been set 256 to win. Alan Davidson and Graham McKenzie had put on 98 for the last wicket that morning to give us a chance but then Ted Dexter was demolishing us at 1/150. Suddenly, the picture changed when I had Ted caught at the wicket by Wally Grout after he had made a brilliant 76 and their last nine wickets fell for 51 runs to allow us to retain the Ashes."

Benaud reveals that cricket is the most controversial game of all sports as it is one of the oldest and therefore he believes can be resistant to change.
"Twenty20 is a good example," he says. " In 2005 I wrote that the new Twenty20 competition would be a success. I added the rider that if 20,000 spectators continue attending the matches, depending on ground size, then that is great for the game. I also said that the Twenty20 matches needed to be to the benefit of Test cricket, as has been the case with the 50 overs a side Internationals over the past 28 years.

"I like Twenty20 and the feedback I get from youngsters is wonderful. A lot of them take their parents to the cricket whereas, for the longer versions, it is the other way around. The IPL and ICL Super Leagues will do their job but it is a matter for the cricket authorities in each country to legislate sensibly and carefully with the game of cricket, rather than money simply being uppermost in their minds."
Many would describe Benaud, in terms of 'icon' and 'guru' but he says they have become boring clichés. He believes the role of the commentator involves two jobs.

"The first is to have his brain in gear before he opens his mouth. The second, and most important, is to talk to the millions of people at the other end of the microphone and believe you are talking to one person who is your friend. You are trying to add to the picture on the screen he is watching. Don't ever tell him what is obvious to him…'as you see on the screen' is an awful phrase."
When we think of Benaud in the commentary box, its difficult not to picture him wearing his trademark cream jacket which he says came about in Adelaide in 1977 when Kerry Packer telephoned Channel 9 producer, David Hill to say he wanted the presenter to wear a jacket different in colour from the other commentators.

"The first one was grey, then gradually they became cream," he says.
Benaud's commentary style and use of the word 'marvellous', have been frequently parodied over the years and non more so than in Billy Birmingham's Twelfth Man series, which has spanned some twenty years.
"There are various people that mimic others; some good, some who shouldn't give up their day jobs," he says. "The only thing I find annoying about this aspect of life is when someone uses a voice or image to pretend to people that I am advertising a product. It's just not untrue, it's dishonest."

Benaud has the energy and stamina of men half his age but he maintains that there is no secret to longevity. He walks as often as he can and plays as much golf as he is able although he adds that it isn't working out particularly well at the moment.
But for Benaud who has been credited with revitalising the interest in cricket in Australia, inspiration comes in different guises.
"Sometimes people go overboard about it [but] I still believe in the advice I was given a long time ago: 'Do your best and never give up."
Marvellous – simply marvellous!