In the flesh, Lateline presenter Tony Jones belies much of the reputation he has amassed over his 20-plus years in the spotlight. His work has been considered in equal parts brave and brutal. For the better part of two decades, audiences have watched from living rooms across Australia as Jones has covered such pivotal moments in history as the collapse of communism in Eastern Europe, the reunification of Germany and the Gulf War, with gusto and a candid, if sometimes brusque, style.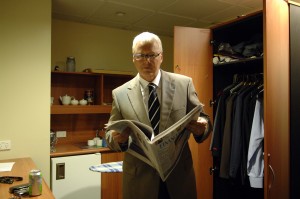 On the day of our interview, however, Jones is all smiles and good humour. Atop the ABC's Sydney headquarters he poses obediently for the camera – like many a well-trained anchor – and occasionally asks for some reassurance that his glasses are on straight as he is "always sitting on them". He laughs frequently, answering questions with a liberal smattering of self-deprecating asides.

Clearly, the probing journalist who has won four Walkley Awards and a gold medal at the New York Film and Television Festival is having the day off. But it seems Jones is well aware of his infamous feisty streak, referring to his "argumentative" nature more than once – and with a hint of pride. It is to this, it seems, that he partially attributes his success.

"I think I'm probably pretty argumentative, or at least I was when I was younger," Jones says. "Most dinners or lunches with my father… went into some kind of argument of one sort or another, either about politics, or about things that were happening. So I got my early training arguing with my dad, in a constructive way."
Jones decided to take advantage of his passion for the controversial and enrolled at the University of Sydney. It was while living on campus at St Paul's College that Jones met flamboyant Australian journalist Francis James and, true to style, got into an argument. But with the battle lines drawn, James decided to invite the younger man for a home-cooked meal to settle the score.

"He got out his photograph album and showed me pictures of people he'd met and spoken to," Jones says. "Ho Chi Minh he knew personally and Ho Chi Minh's general who had defeated the French in the war in the 1950s. He knew Prince Norodom Sihanouk, basically the King of Cambodia and, of course, he knew many senior figures in the Chinese Communist Party. The same people who later arrested him and put him in jail.

"He just basically gave me a kind of cook's tour of our region – who these people are, what motivates them, what started these wars and what it's like to actually be in the middle of all that as a reporter. I went out carrying a pile of books he'd lent me and I just was sure at that moment what I wanted to do, which was to become a foreign correspondent."

This thirst for knowledge and drive to become a roving reporter led to a gig at the ABC, where in 1985 he was taken on as a radio current affairs cadet working on AM, PM and The World Today. Following stints at Four Corners and Dateline, he took up a posting in London to work as a television current affairs correspondent.

He arrived in Europe in late 1989, a month before the Berlin Wall came down. This was a pivotal time – politically but also personally, as it was during Jones' overseas posting that he first crossed paths with the bright-eyed journalist who would soon become his wife.
While on assignment in France, journalist Sarah Ferguson was deployed to work with Jones as a translator and researcher.
The pair made contact on arrival where, according to Jones, it was love at first sight.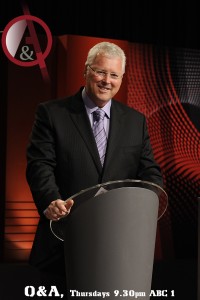 "She's a very admirable person," he says. "We talk about politics a lot. She is actually English originally, so she understands Europe and that region very well."
A shared passion for politics is just as well as, for Jones, worldly events are never far from the mind.
"I never really switch off," he exclaims, "it's like a hobby, I mean it's not like I'm doing something I'm not interested in. I do switch off – obviously I watch movies or take my kids to their rugby games – but at the same time, I reckon I keep track of what's going on in the world."

Ferguson, now a reporter with Four Corners, recently said that her husband's behaviour can be "relentless". It's a statement that could almost be passed off, given Jones' reputation – but history suggests there's more to it.

In November 2007, Jones co-hosted the coverage of the Federal Election with Kerry O'Brien and was later slammed by the press for his merciless treatment of failed Labor candidate Nicole Cornes. The 37-year-old celebrity newspaper columnist had previously been ridiculed for her lack of understanding of Labor Party policy, famously opting to "take a rain check on that one" when quizzed by a reporter on the Federal Government's budget surplus. During his post-defeat interview, Jones left Cornes fumbling for words when he told her that her political campaign had been a "disaster".

Ferguson, perhaps to present a balanced analysis of her husband's persona, has argued that this side of him has since softened. She said that while Jones has retained the tough working style he is renowned for, this has been tempered with a "fairer" way of dealing with his subjects.
In April this year, Jones made an apology to Federal Housing Minister Tanya Plibersek for several reproaches he made in a live forum following a documentary on youth homelessness.

It would seem the 51-year-old may be mellowing as the years go on. Jones says that if he was given the opportunity to bestow some wise words on his younger self, he would simply advise him not to do anything differently. So, no regrets then?
"Oh, no there's plenty of regrets," he admits. "I'm not going to go into them now, though! No, we all make plenty of mistakes. I mean, if I'd met my wife, for example, when I was much younger, maybe, you know, she would have hated me."
But for all the talk of his style, Jones is a man of substance.

"One of the things that Lateline has done over a long period of time is to focus on injustices to individuals," he says. "We've taken the view that your society is only as strong as the defence of the weakest individual. You can define yourself as a society by protecting those who are most vulnerable."
Jones' most rewarding career experience has been exposing these injustices – albeit in an almost predictably controversial manner. His most memorable story to date was a series of Lateline reports on the Mutitjulu indigenous community in Central Australia. The reports were sparked by a leaked copy of a confidential report made by crown prosecutor Nanette Rogers, who then agreed to go on the record with Lateline.

"She was at some risk of losing her job for speaking out to us; she got a lot of criticism from senior people in the government over there, as we did," he says.
Jones and fellow Lateline presenter Suzi Smith faced an intense backlash from the indigenous community and the Northern Territory Government for their reporting. Central to this criticism were claims by the Mutitjulu community that the coverage was "poorly researched and full of lies and misinformation".

The ABC's Independent Complaints Review Panel dismissed all but one of the 30 allegations made in the complaint. Jones himself maintains that the coverage was crucial and acted as a catalyst for one of the most significant turning points in Australia's indigenous history.
"But that interview led, over a long period of time, to a new public debate starting up in this country and, finally, indirectly, to the Northern Territory intervention," Jones says.

For this and his solid, consistent reporting, it's clear most of his peers hold him in high esteem. Jones' critics, however, still accuse him of arrogance and label his brash interview style unjustly harsh.
But the woman who knows him better than most – as a peer and more – has described her husband as a modest man who shies away from publicity, preferring to tell, rather than be, the story. Jones agrees, saying that, were he not telling other people's stories, he expects he would pick up a pen instead.

"Maybe I'd be a writer," he says. "That would probably be my next great love. If I had any more ambitions it would be to finish this writing project I've started. I've made several failed attempts at completing a novel, so if the wheels fall off journalism at some point, if people get sick of looking at an ancient character with spectacles looking out from their television screens, then maybe I'll pick up that novel."