Arriving at The Buddha Belly for lunch, I am swept up in the calm atmosphere and heady scent of spicy Asian cooking.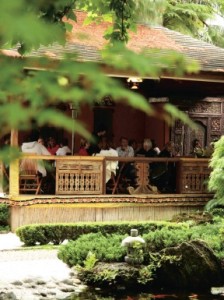 My table, handsomely decorated with a Balinese tablecloth (which is replaced by a crisp, white version for dinner), looks out onto an original, traditional Balinese pavilion overlooking a gorgeous Japanese garden, complete with large koi pond, Japanese bridge and an impeccable pebble garden.
Our party of six is given a table within the main pavilion. The whole structure has been imported from Bali and adds so much to both the ambience and dining experience, for a complete spoiling of the senses. Service is first-class even though almost every table is taken and staff are clearly having to cope with a rush. Our waitress gives us enough time to peruse the menu, but not so much we feel neglected.
Water for the table is served quickly, and I am impressed by the rather exciting extensive wine list. South Australia's Petaluma Riesling 2006 ($45 per bottle), Western Australia's Pierro Chardonnay 2004 ($100), the Mornington Peninsula's Stonier Pinot Noir 2005 ($49) and the Peter Lehmann Stonewell Shiraz 2001 ($120) are just some of the highlights. Staff are knowledgeable and can recommend the best choice for each dish.
Non-alcoholic hot and cold drinks are also available, as well as a plethora of local and international beers – including Bali's Bintang ($7) and Australia's own Lucky Beer ($8.50) – sparkling wines, champagne (headed by Bollinger Special Cuvée non-vintage, $150), spirits, liquers and tempting cocktails. The restaurant's signature cocktail, the Buddha Belly Colada ($12) – a blend of Bacardi and lychee liquer together with ice,     After ordering I take a wander around the pavilion to get a feel for the place. There are several smaller secluded eating areas in the garden that allow the busiest of hours there to appear quiet and relaxing, and are also delightful on a warm summer's evening – and perfect for a romantic dinner for two.
Outside, traditional Japanese pebbled gardens and lush green surrounds create an atmosphere of supreme serenity. Diners are lulled by the gentle rush of a small waterfall, which looks stunning with dim backlighting after sunset. There are quite a few younger children standing on a charming bridge that stretches across the pond, admiring the large koi. This is definitely a restaurant where the little ones will be entertained for as long as they need to be, and the menu can cater to children under the age of 12 on request.
At the rear of the complex sits a row of wonderful Japanese, Indonesian and Southeast Asian shops with a variety of ornaments, jewellery, garden features and landscaping services on offer. On the opposite side lies the fabulous and ever popular Palmland nursery.
The Buddha Belly menu prides itself on the many wonderfully creative fusion dishes it has to offer. Chef Nils Strömland presents a somewhat surprising array of tastes and textures to create a healthy selection of interesting and unusual dishes.
For lunch, entrees include lightly spided calamari with sweet chilli mayonnaise ($16.50) and peanut crusted beef salad with crispy vermicelli noodles ($16.50). We decide on the Buddha Belly Trio ($19), a chef 's selection including refreshing coconut king prawns with green mango salad, wok-fried mussels served with fresh lemongrass, udon noodles and mixed herbs, and green tea noodles with mixed herb salad. The king prawn is the standout piece of the lot, lightly battered and perfectly seasoned.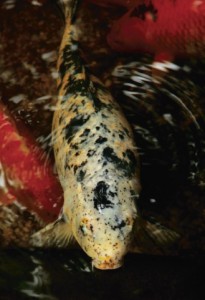 Mains follow suit and are equally delectable. The menu includes pan-fried barramundi with a warmed apple, fennel and walnut salad and sweet tomato relish ($30), and goats cheese and spinach pancake, Asian mushrooms and poached asparagus ($26).
After much deliberation, I choose The Buddha Belly signature dish – twice cooked duck, served on a bed of coconut rice with Asian greens and citrus and chilli marmalade ($28). The duck is marinated in broth before being cooked, and the heady flavour is present right through to the bone.
I also taste the slow cooked Atlantic salmon stuffed with sweet lychees and served with green tea noodles ($28). It is tender, the perfect melt-in-your-mouth, moist texture and well accompanied by the noodles.
Portions are generous but one glance of the dessert menu is enough to create room for the third course.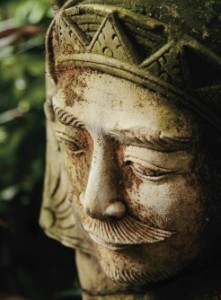 Sweet treats include slow-baked lemon and lime tart ($8.50), The Buddha Belly Brulée ($8), and chocolate and pistachio parfait ($8.50). Brownies, friands and cookies are also available. I have the deliciously fluffy white chocolate cheesecake ($9), which is served with wonderfully fresh seasonal fruit.
The Buddha Belly is a delightful little gem, safely secluded from the busy traffic of Mona Vale Road in Terrey Hills. The lush Balinese garden creates a natural wall that blocks out all outside noises. So much so, you could be forgiven for mistaking this experience for a romantic dinner in the heart of one of Bali's stunning Nusa Dua resort.
This piece of tropical paradise is just a short drive from the city and is available for wedding ceremonies and receptions, as well as functions that cater for every special occasion. The restaurant is licensed for up to 84 adults and can cater for a total of 90 people at a time, including children. The Buddha Belly can offer flower arrangements and restaurant decor to suit your own personal taste, or provide crisp white table linen and traditional Indonesian runners on request. There is also sufficient space to accommodate a dancing area and live musicians.     Whatever your reason to visit The Buddha Belly it will not disappoint. Suitable for every occasion and all ages, the entire family will discover a restaurant and surroundings to fall in love with time and again. For more infornation, visit here.