Many might expect a chef of Guillaume's calibre not to be involved in the day-to-day cooking. As well as running Bennelong, he is involved in the food preparations and it's not unusual to find him in the kitchen mid-morning filleting fish or shucking oysters.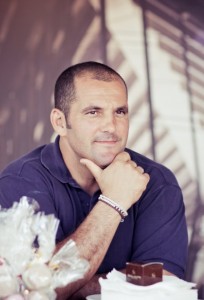 It hasn't always been easy being Guillaume Brahimi. As a 15-year-old in his native France, the head chef at Guillaume at Bennelong used to work 17-hour days trying to make ends meet. In his late teens his professional career took off and he undertook rigorous training in renowned Michelin-starred restaurant La Tour d'Argent. Now one of Sydney's popular and most celebrated chefs, Brahimi is clearly enjoying the spoils of years of hard work, early mornings and late nights.
Discipline is a quality he's brought to kitchen. "It is important to have strong discipline," Brahimi says. "If you've got the discipline you can have fun creating dishes. But you can't have fun without the discipline."
Brahimi openly admits he is a perfectionist, in the vein of many French chefs. His philosophy is "l'ámour du travail bien fait"- the love of doing something well. But does give credit where credit is due.
The restaurant's 25 well-paid staff are central to Brahimi's success. "I don't believe in micro management, each one of my staff members has been hired for their area of perfection. I'm not the sole creator of the Guillaume brand," he explains.
Moreover, their palates keep the French chef on his toes as Brahimi looks to his staff for input into his creations. "I road test lots of new dishes on my friends, however when I'm creating a new dish, that is in the kitchen with my team," he says. "Nothing shocks my staff anymore!"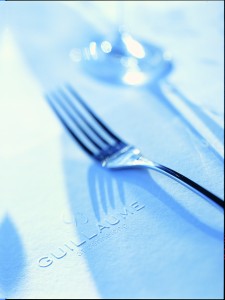 Brahimi may believe in teamwork and listening to his staff but one thing he is very protective of is his menu. Bennelong has 20 main courses. Brahimi can never decide what to take off. He has earned his reputation through his signature dishes – so much so that he has his first cookbook coming out in 2011 – and doesn't want to disappoint a diner who  comes in to taste a certain dish.
These range from his signature east-meets-west entrée, basil-infused tuna with mustard seed and soy vinaigrette (see recipe on page xx), to Italian-inspired roasted marron wrapped in proscuitto with risotto, veal jus and truffle and French classics such as his duck confit with pommes pont neuf, foie gras and truffle.
It's obvious Brahimi loves cooking with butter (in typical French style) and he jokes he has helped make Australian dairy farmers very rich. But does he ever worry about Australia's obesity problem and whether chefs have a role to play in curbing the country's consumption of less-than-heathly foods?
"My menu has many light dishes with an emphasis on fresh local produces. Personally I have to watch my weight – maybe that is reflected in many of my dishes.

"But definitely not in my Paris mash. It is unashamedly rich," he laughs.
Brahimi is the consummate foodie; he rejects the notion of food as a means of corrupting people's health. He prefers to focus on the benefits of balanced meals rather than accepting food as an anasthestic to numb the pain of emotional issues.
"Banish the word diet!," he exclaims. "To me managing weight is about lifestyle choices not restricting one's self so that you become disenchanted and frustrated. Eat when you're hungry not when you're bored or stressed."
For Brahimi, food is clearly an expression of love and family. As a boy he learnt the value of good produce from his mother while growing up in Versailles, just outside Paris. Food was central to their life and Brahimi watched as his mother and grandmother revealed their passion and love for cooking by preparing three-course meals for the family.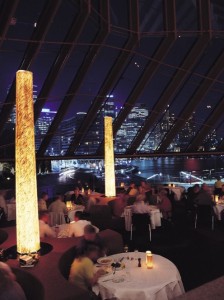 Born in the 19th arrondissement in the north of Paris, Brahimi was very close to his family growing up and often wonders how he ended up living permanently in Australia. One year became two … and the rest is history.
"I travelled to Australia on a summer holiday when I was 23 and never left! The sun was shinning and I thought Sydney was beautiful," he says.
Four years after his arrival Brahimi opened Pond in Kings Cross, which was awarded two chefs hats by the Sydney Morning Herald Good Food Guide, before moving on to Quay, which Brahimi took from no hats to a restuarnt worthy of the coveted three chefs hats. Despite his local success, France still inspires him and he returns two or three times a year.
"I find it inspiring to go back to my roots. In France presentation is very important, for many chefs as important as the produce. Everything must taste wonderful but also must be pleasing to the eye," Brahimi explains.
It is a philosophy he applied to his latest venture, Bistro Guillaume, the Parisian-style restaurant in Melbourne's Crown Casino that he opened in 2008. Brahimi was so determined to recreate the atmosphere of the classic French bistro that he took his team of designers (Ivy, Est) to France to show them his favourite Parisian haunts.
While design is important in creating ambience, food is still the star of the show. Brahimi has built his name preparing intriguing, modern dishes using French techniques. Until he came along, the restaurant space under the sails of the beautiful Sydney Opera House had been the residence of one failed venture after another. But since Bennelong's opening in 2001 under Brahimi's direction, it has garnered numerous awards and earned three chefs hats from the SMH Good Food Guide.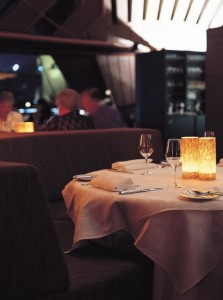 Although now on two hats, Guillaume at Bennelong still packs the crowds eager to taste the creations of the latest chef to enjoy a fast-growing celebrity profile. Brahimi recently appeared as a guest judge for the French episode on top-rating television series MasterChef, much to the delight of his three daughters. (The show's contestant, however, was probably not as happy given Brahimi's criticism of a duck dish saying, 'It's not French'. Mind you, that was from the same man who calls Gordon Ramsay a big pussy cat.)
"Food is a fad at the moment," he says. "People are watching cooking shows and trying out recipes. So the demand is there for great produce and Australia does have great produce, especially in the last 20 years.
"A cook needs to understand the science behind food and make use of the foods that are in season. Right now I'm getting a buzz out of baby brussel sprouts." For more information, click here.