"We never set out to write afro-beat songs," Heidi Lenffer, singer and keyboardist for Cloud Control explains of their break-out hit Gold Canary, which has taken them from Blue Mountains-born band competition entrants to having a single of the week on BBC radio in two short years. "If people listen to our album they'll see it's not a consistent thing at all."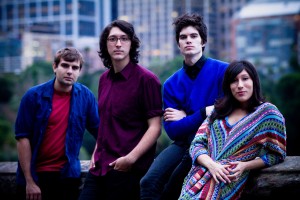 Bliss Release, Cloud Control's debut album, couldn't be more appropriately named. Their sound is a warm, harmony-laden brand of pop with songs that jump from joyful handclap-driven hooks to whirring psych riffs in a breath. And far from pigeonholing them with the current crop of bands latching onto the afro-beat trend du jour, the album's diverse array of influences range from pastoral folk to jangly pop yet it still manages to sound cohesive and consistent: a sign of a band unafraid to reveal their influences on their way to creating a sound of their own.

"We don't write to reflect genres," Lenffer says. "We write to create atmospheres that we enjoy playing and that we think other people might enjoy, so it's not a very self-analytical process; we don't try and write a psych song per se, it's just how the song happens to develop and then it's up to other people to draw references and put it in a category."
The band have managed to turn heads from their first recordings, but Bliss Release looks set to launch the band into a higher realm – four songs off the album have already been placed on high rotation on national radio and they are garnering praise from the full spectrum of Australian press, a fact made even more remarkable by the fact that the young band have essentially written and recorded the album themselves, making Bliss Release a very personal affair.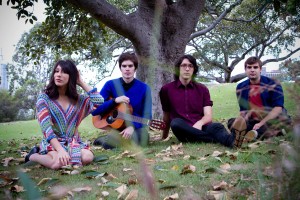 "My mother came up with the title," Lenffer admits. "She picked up on the fact that for us releasing the album was a release in the sense that we were making a creative offering and it was a purging release of pent-up ideas."
Lenffer has traded the sprawling greenery of the Blue Mountains for an apartment north of the Harbour Bridge, as have the majority of the band, though when it came time to record their debut album the choice of location was an easy one, home.
"Often recording studios are a controlled environment, the beauty of a living space is that it often has a warmer sound so we chose a lounge room in Jeremy (Kelshaw, bassist) and Liam's (Judd, producer) parents' houses which had a nice sound to them," Lenffer explains. "There's something personal.
I'm not sure if it's a tangible thing that you can hear but, for us, by recording in homes that we grew up in there's a level of comfort that might implicitly influence the way we record."
There is no denying a sense of ease that permeates the tracks, giving the album a distinct confidence that betrays the fact that Bliss Release is the band's first full-length record. After recording what they perceived to be a complete album on a minimal budget, in their family living rooms, the band's label suggested they try a studio and matched the band with iconic Australian producer Wayne Connolly (of You Am I and Silverchair fame).
There's Nothing In the Water We Can't Fight is the sole track from the studio sessions that made it onto Bliss Release and it seamlessly blends in with the vibe and quality of the home-recorded tracks, as much a testimony to the band's recording skills as Connolly's sympathetic production.

"We had concerns that recording with someone else would produce a different sound and that it would stick out on the album," Lenffer confesses. "We got Liam to mix it, he put it through his crazy machine to give it continuity and then at the last minute we added some extra guitar parts and some of my vocal parts over the top."
Whilst all 10 tracks on Bliss Release show the band to be superb at crafting songs, the standout is undoubtedly Gold Canary, a slow chant on which the band slowly builds until they meet the bridge and break into a psychedelic freak out. Despite the fact the song lacks conventional structure or even a chorus, it's instantly catchy. The track is also gaining praise in Britain.

"It's a weird song, it's not a conventional single by any stretch of the imagination," Lenffer admits. "It meanders a bit, it's got a psyched-out synth solo and it's a bit of a hodge-podge collection of ideas, which works I think. We really liked it but no, we didn't expect anything from overseas. There's always a big question mark over there, you don't really know what kind of music they listen to."
To build on their success the band are planning a European tour this year. Lenffer believes that despite the joys of writing and recording music, it's on stage that the band draw their inspiration.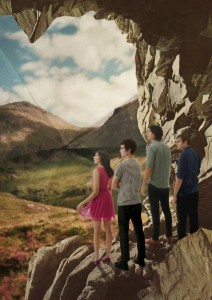 "Because we haven't recorded very much we write our songs for our live shows, so then when it comes to putting them down [on an album] we then have to reconfigure them quite substantially because we have more liberty to layer sounds than we do live," she says.
Despite the critical praise, the band are not living the high life … yet. "A lot of people assume that if your song is on the radio then you must live off your music, which is not the reality at all."
Lenffer teaches piano and has started a creative cake baking business. It's only bassist Jeremy that holds down a nine-to-five as a workplace ombudsman, which according to Lenffer "has wonderful things like four weeks annual leave and flexi time".

Before the band pack up for Europe they are squeezing in two national tours to promote their album, one as headliners and the other as support act for crossover sensation Vampire Weekend, the band credited with sparking the afro-beat revival. Whilst Lenffer admits to respecting the band, she is keen to distance them as idols.

"People are all the poorer for pigeonholing us if they do," Lenffer says. Bliss Release makes that abundantly clear – Cloud Control move to the beat of their own drum. For more information, click here.