Newsreader Juanita Philllips has told viewers about war, politics and the death of a princess. But it was no global event that shook her to the core. Motherhood brought her to the brink.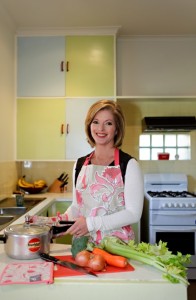 August 31, 1997 is a day many will never forget. It was the day Diana, Princess of Wales, died from injuries sustained in a shocking car crash in Paris. It was also the day a petite, blonde Australian named Juanita Phillips arrived at London's BBC television studios for her second day on the job.
"All of the international coverage was coming out of the BBC. To be there on this day when the whole nation was in mourning and yet the BBC was full of hundreds of journalists fussing here and there – it was a massive news day and a massive news experience to be part of," Phillips says.
It sounds intimidating but she must have held her own because the following week, dressed in black, Phillips co-anchored the broadcast of Diana's funeral, an event watched by an estimated 2.5 billion people.
It was a long way from the Channel Ten studios in Sydney, where she began her now 20-year career in front of the camera after a 10-year stint as a writer at Brisbane's The Courier-Mail. While she admits she never had ambitions of being a newsreader she was "excited" and "eager" at the time, an attitude that remains.
The youngest of four girls, and unusually named after an immigrant her mother met while pregnant, Phillips was approached by the BBC to relocate to Europe and spent the next five years living the "fabulous, exciting and utterly ridiculous" life of a jet-setting journo. Making the most of her opportunities, she played hard and worked even harder.
Diana's funeral would be just one of many pivotal events she would host, however most would be covered from the news desk at CNN where she moved after taking offence to a request by the BBC to "tone down" her accent.
That September day, as she watched the two young princes walk behind their mother'scoffin, Phillips felt a conflict that belies the role of the ever-impartial newsreader. But it stays with her still.
"I have mixed feelings about our coverage of people's grief," she says. "I don't really think that we should linger on it too much."
However it is not her coverage of that funeral, nor the time she nearly fell off her chair while trying to shake the hand of "Dr Hook", Muslim cleric Abu Hamza, live on air that Phillips is best remembered for. Her most famous broadcast occurred as she presented the 7pm news on the ABC in 2007, five years after her return to Australia. That night, as she opened her mouth to introduce the top stories, no sound emerged. What followed were several excruciating minutes as a watery-eyed Phillips struggled for breath while croaking through story links, until screens quickly flicked to the Melbourne bulletin.
"I went back on air 10 minutes later with a smile apologising for our 'technical difficulties' and joking … But inside I was shocked and frightened," she recalls.
Now posted on YouTube, this laryngeal spasm, as it was later diagnosed, was thought to have come on due to stress and became the catalyst for "some radical changes" and the penning of her recent self-help tome-cum-cookbook, A Pressure Cooker Saved My Life.
When she was just shy of 40, within months of her return to Australia, she met and married her husband, former tennis professional turned designer Mario Milostic. Before Phillips knew it she had a baby, a toddler, a crippling mortgage and two deadline-driven jobs (she also wrote a column for the now-defunct The Bulletin magazine) in an industry that did not sympathise with the demands of motherhood. What followed was a close call with physical and mental breakdown.
The book is surprisingly candid for someone so famously private. From manic meltdowns to parenting faux pas (she once mistook her own baby's cry for the wail of a tomcat), Phillips lays bare the "wholesale destruction" of her former life that accompanied working motherhood.
But why change her stance on secrecy now?
"The hardest thing I've ever done was to get married, have kids and try to work full-time at the same time," she explains. "It was a shock to me that it was so difficult to balance … and I also felt that it was really unreasonable. I just thought, 'It's such a huge issue yet people don't really talk about it that much'."
Troubled by the lack of "accounts coming from the frontline", Phillips took it upon herself to detail one of the most contentious social problems of our time: work/life balance.
Despite her success, Phillips was still afraid that the book might be her undoing. Prior to its release she armed herself with defences to every potential criticism, knowing from experience how harsh her fellow journalists can be.
"I was a bit worried that people are going to say, 'This is anti-feminist, it's a throw back and getting women in the kitchen'."
To her relief the criticism never came, even though the book focuses heavily on domesticity. But Phillips is adamant that is not taking a step in the wrong direction.
"I am a feminist but I think you have to be realistic. Feminists have children. I've worked hard all my life, I've supported myself and carved a successful career for myself so I do see myself as a feminist," she says.
With her children now at school, her life is "brilliant" and it's hard to believe Phillips was ever the raging banshee she recounts in her book. Today, even as she lolls back into her lounge she maintains a poise and posture that June Dally-Watkins would be proud of.
Perhaps it is her new environment. About a year ago the family moved from Avalon to the North Shore into a modest, white house in a whisper-quiet street. The move instantly improved her life – both their mortgage and her commute were slashed.
On the surface her likeness to her television persona is unnerving, as are her good looks, and Phillips bears obvious signs of her profession. Her voice is as steady as a teleprompter. She sits still, avoiding any unnecessary hand gestures or wild facial expressions. She is quick to smile though, and is effortlessly disarming, joking that the house is in the perfect location because there are many young families with kids in the street and, more importantly, the neighbours across the road are in the wine industry.
There is evidence of her children and husband in artwork around the house but it is her retro-inspired kitchen that is the principal exhibit. It has been decorated with vintage furnishings straight out of the 1950s and comes complete with a booth table, draped in a red and white polka dot oilcloth.
Like her kitchen, her book is full of nostalgic references as Phillips looks to the post-war years for a formula for how reclaim her life by getting back to basics. Therein lies the one lesson she hopes her book is able to teach.
"The one thing that I hope everybody takes away from it is just simplifying your life, doing less, trying not to meet all those ridiculous expectations and just being happier with less," she says.
That and blurring traditional gender stereotypes. After many failed attempts to find a reliable nanny, Phillips and her husband decided to try a little role reversal, with her working full-time while he became a stay-at-home dad. While challenging, it worked and she never had to make the difficult decision that so many mothers face.
"Journalism and writing and broadcasting is just what I do. It's my life and I can't imagine not doing it," Phillips says. "Having said that I feel bad because my husband gave up his career and that's very much a part of who he is so I guess I was lucky in a sense that the only realistic thing for us was that we needed my salary and I earned more than he did so that's how it worked out. I've never had to consider giving up my career."
On the contrary, she'll soon be adding to her schedule by reading the 8pm bulletin on the ABC's new 24-hour news channel. Australia's public broadcaster has obviously never made a mistake like the BBC as Phillips has no plans to leave the channel where she has worked since 2003.
"The ABC feels like my natural home. I'm just very comfortable with the whole ethos of the place. Sometimes I look at other news bulletins and they're leading with stories of a celebrity marriage break-up and I think, 'Thank goodness we don't do that'," she says.
But does she ever miss the fast-paced life of the celeb-schmoozing international correspondent?
"No, I don't," Phillips says. "By the time I came back from London I was just so burnt out from travelling and working crazy hours I honestly thought, 'I couldn't care less if I never got on a plane again' so I'm actually really happy. I'm happy to be just living in the suburbs, playing with my kids and having a really simple life."