In the lead up to Australian Fashion Week's autumn/winter show last year, the fashion industry was in disarray. With the October event being shifted from Melbourne to Sydney, more than a few grumbles could be heard from industry insiders and wealthy socialites, whose predictions of disaster were latched onto by the media.
Michael Romei
With allegations of poor timing and criticism for the lack of international buyers attending, the event struggled to draw big-name designers and a bevy of fledglings were enlisted to fill the void. While it was being promoted as a celebration of youth, as the country's fashion elite descended on Circular Quay's Overseas Passenger Terminal for the big show, whispers of fashion roadkill clung unpleasantly to the air like designer imposter perfume.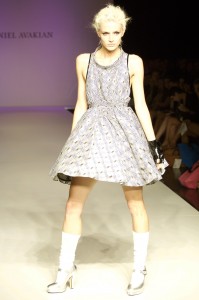 That was until a model wearing a dress from Daniel Avakian's Willy Wonka and the Chocolate Factory inspired collection strutted onto stage and injected the event with some bold originality rarely seen on Australian shores.
In the space of a few seconds, Avakian, 28, had transformed himself from 'fledgling' into rising sensation, even upstaging his former mentor Alex Perry. When asked how this made him feel, Avakian takes the diplomatic route, dismissing the notion and asserting his admiration for established designers.
"Oh, I didn't upstage him!" Avakian laughs nervously, squirming in his chair as his eyes gleam with pride. "Alex rang me up and said, "Daniel, I'm really proud of you". And that meant so much to me, because you look up to other designers. They're at a different stage in their careers, a stage that I hope I will be at one day."
It is perhaps understandable that Avakian would prefer to downplay the rapturous reception for his debut collection, and with it the almost overwhelming expectations for his spring/summer range. In an industry consumed by the belief that "you're only as good as your last collection", the stakes are clearly high – not that Avakian would admit this concerns him. For now, he appears comfortable in his modest Surry Hills studio.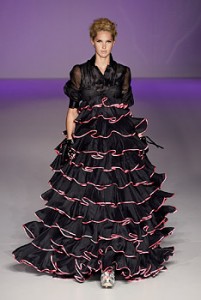 "I'm quite oblivious to what's going on in the outside world in my little dungeon here," he reveals, waving his hands around the roughly painted room. It is black and white, with spurts of bright orange slapped on randomly. Against one wall is a lone clothing rack, housing Avakian's next shot at superstardom.
"They all say that you're always as good as your last season, but I don't like to see it as make or break. I like to think that you're always going to be doing a season along the track, which might also be a hit. That's the beauty of fashion. It won't end. I just don't believe you should put limits on yourself."
This is the kind of liberal approach to be expected from a person who describes his entry into the profession as "completely unexpected." Despite coming from a family of tailors, when Avakian initially left school he wanted to pursue the arts, enrolling at the College of Fine Arts in Sydney. This lasted for only a short time before he left to drive tow trucks for a friend.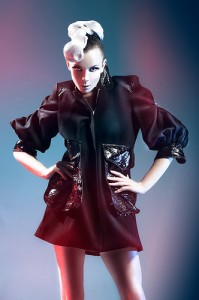 "I just didn't know what to do with myself," Avakian recalls. "So when my friend asked to drive trucks for the rest of the year, it was just like, 'okay, why not?'"
"Fashion had never really entered my mind as something I could pursue. I used to see my family tailoring and making dresses and what have you, and I knew what they were doing, but I was just too busy being a kid. Growing up, playing sport, struggling through school… and there was no real direction there that guys might want to do fashion."
Avakian's decision to pursue fashion design was inspired by a movie he saw on late-night television about an orphan tailor who made the girl he loved a dress because he had no money to woo her otherwise. It was shortly after seeing this that Avakian applied to the Whitehouse Institute of Design, where he was accepted on the strength of his visual arts portfolio and studied for three years from 1999-2002. It was there Avakian was first exposed to the often limiting realities of the Australian fashion market.
"Australian fashion is very different to other places in the world," he reveals. "There's a lot of emphasis on the commercial aspect of fashion at Whitehouse. While there were some very creative points, at the end of the day they're like "look, you guys are in Australia". As such, they'd encourage you to come up with simpler designs, as you've got to sell it."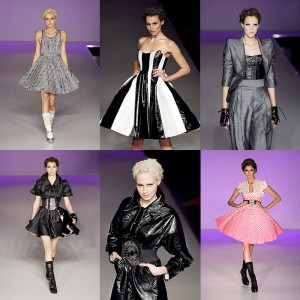 "I don't like to think like that, it was tough. But I realise that sometimes you've got to approach design that way if you want to continue doing what you love."
After graduating, Avakian won a scholarship to complete his Master in Design at Accademia Italiana Moda in Florence before moving to London, where he worked as a freelance designer for labels including Alice Temperly and Giles Deacon. It was in Europe that Avakian was able to refine his craftsmanship and also extend himself creatively, which only served to enhance his love of couture.
"I just can't make boring clothes. That's the truth!" Avakian laughs. "I approach my work from a very creative perspective – I view fashion as art."
With this in mind Avakian returned to Australia in 2006 to work with couture-king Alex Perry as a pattern cutter and design collaborator. After a year Avakian was confident enough to launch his own self-titled label, which he would like to see develop into an exclusive brand.
"I believe you should start how you really want to finish, and definitely 'Daniel Avakian' would be an exclusive brand, for women who are confident, not afraid to wear different things and possessed of raw energy. I am really drawn to designing one-offs. But I wouldn't just stick to dresses. I'd do jackets and tailored jackets and skirts and pants and ensembles. I'm more interested in a complete woman."
"At the moment I'm concentrating on women's clothing because I think you can do a lot more with it. I think that playing around with shape on a woman's body is a lot more interesting. That's not to say I'll never do menswear, but I guess you need to start somewhere."
Despite being drawn to the exclusive market, Avakian says he would never rule out the possibility of collaborating with retail outlets, in similarity to the Stella McCartney-Target partnership.
"Often designers need to find incomes other than from their own collections in order to continue working at their desired level. So consulting their designs to others and collaborating with others is all part of them trying to survive in work."
"I think it's great to associate commercial brands with high fashion designers. It's great for everybody really. It's great for the owners of the stores, it's great for the designers because it presents a new challenge, and it's great for the consumer to say, "Wow, I have a piece of designer clothing!"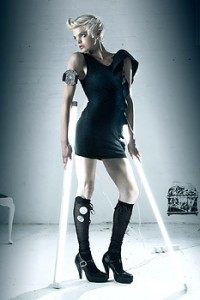 "Now the fit, that might be a different matter," Avakian adds.
For now, however, Avakian's full attention is on his upcoming collection, to be launched at Fashion Week at the end of April. In contrast to many other designers, Avakian is eager to discuss the 40-piece range, which was inspired by the 1971 George Lucas science fiction film THX 1138 and has taken several months to produce.
"I'm going for a very strong look this season. I want to portray a '70s or '80s vision of the future, kind of like a Stanley Kubrick vision of the future that never really happened. I want it to be quirky and unique. So for the colour palette you've got orange, silver, black and white, while for the textures we've used sequins and prints."
The collection is clearly in line with Avakian's bold, unusual style, which is characterised by clearly defined, dramatic shapes and silhouettes. It was for this striking creativity that Avakian was so celebrated last October – an approach he is happy to continue in order to distinguish himself in an industry that has recently struggled to develop an individual identity.
"I shouldn't say there's a lot of copying going on, but I think it's important for us in Australia to have our own identity," Avakian reveals. "Sure we're influenced by America and the UK and Europe, but how about Australia? I know it's a bit more commercial here, and obviously the same customers aren't out here like in Europe or the US for wild, avant-garde conceptual designs. But I think it can be nurtured."
"I guess the next generation of designers will strive towards that, and this makes it a very exciting time for fashion in Australia. I want to be a part of it. I want to introduce a new, modern take on Australian fashion. So right now it's all about getting myself out there and letting people know that fashion really has no boundaries, and we should embrace this."