In 2004, gossip columnists were in overdrive. On the international stage pop tart Britney Spears got married and divorced within days, Martha Stewart found herself serving time in 'Camp Cupcake' and Janet Jackson spawned the term 'wardrobe malfunction'.
Michael Romei
In Australia there were more delicious offerings, with 'Our Mary' achieving the now-legendary coup of marryi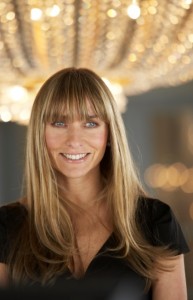 ng a Danish prince, while Jennifer Hawkins conquered the universe and began a relentless march towards becoming the nation's most overexposed woman.
But the event that threw the muck breakers into a true tizzy concerned the first lady of Australian fashion, Collette Dinnigan, and her split from showbiz lothario Richard Wilkins. It had all the makings of an epic: an A-list couple splitting three months before the birth of their first child. Yet true to form, the notoriously private Dinnigan (who early in the pregnancy attributed her frequent hospital trips to gallstones) shunned the media. It was a move that frustrated many and led to a slew of rumours that continue to do the rounds today.
"There's always things, such as births, deaths, marriages that people seem to be very interested in and I think those are very private times and I try to keep them like that," Dinnigan, 44, admits from her office in Paddington. "I never got into this industry thinking I wanted fame. When I started 20 years ago it was a very different ballgame. There wasn't the internet and it wasn't so focused on celebrity."
But while Dinnigan may struggle at times with this changed landscape, the debacle of '04 is something she would like to believe she's learnt from. After all, the less a person says the more people want to know.
"I don't have a huge issue with [talking about my private life], which perhaps I did before my daughter was born," she claims. "I feel like I have a lot more respect now because I don't use my private life to try to get exposure. I know when I need to say certain things and I'll do what's needed."
What Dinnigan believes is needed, however, and what the media perceive as needed are very different things, leading to a situation where a casual chat with her can feel like dancing on a land mine. The end result is that despite thousands of women strutting down streets in her designer duds, a raft of celebrity clients such as Nicole Kidman, Halle Berry and Angelina Jolie, and being immortalised on a postage stamp, it seems like no one outside of Dinnigan's inner circle truly knows what makes this creative genius tick.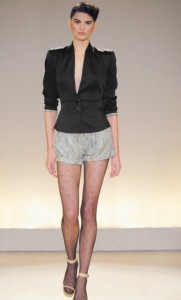 This, it must be said, only makes Dinnigan's $20 million fashion empire all the more impressive. With most high-end designers not having dedicated advertising budgets, they rely on being given editorial space to market their wares – which can be risky business in the fickle fashion world. But Dinnigan has managed to harvest an almost freakish level of support while remaining an enigma, an aberration that could be attributed, she says, to respect for her hushed approach (less likely), the limited Australian market (more likely) or a deep admiration for her creativity (most likely). Not to mention, women happen to love her designs as well.
But it's not impossible to deconstruct the designer. Dinnigan does throw a few bones for interviewers to chew on, but nothing too meaty slips passes her seasoned lips. It's an approach that, though understandable, comes at a price. Unlike her clothes, it's impossible to love Dinnigan in the same way. And the sad thing is you really, really want to.
A self-confessed 'surfie chick' who spent her early years living in South Africa, Dinnigan was introduced to the world of fashion through her textile designer mother. She would gather together the offcuts from the ground and became known for having a new dress each week – a trend that continued until she was seven and her father loaded the family onto a sailing boat to become "gypsies of the sea".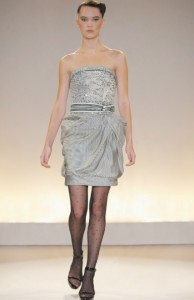 "We were in 40-feet waves," Dinnigan recounts. "It was just extraordinary. But we survived. Although we had such a free life and it was kind of bohemian there was a lot of discipline too that came from our parents. We learnt good values and good manners because you couldn't afford to not listen to your parents when you were at sea."
The eventual destination became New Zealand, where after years of struggling with boredom Dinnigan applied to study arts at the local polytechnic. Though she turned up on the first day expecting to be enrolled in a graphics course, she found herself in fashion. Dinnigan admits she didn't enjoy it initially but she stuck it out. After honing her craft for a brief time in London, Dinnigan stopped off in Sydney on her return journey and it was here that she made a name for herself.
"When I did leave New Zealand the market was very small," she admits. "I thought there was a hell of a lot more opportunity in Australia for me than New Zealand at the time."
Not that it was easy. When Dinnigan was starting out in the 1980s, Australians had a love affair with mass-produced clothing, with little room for the high-end designs that were the staple of the European markets.
"Australia was following the American trend – everything was so disposable, there was a lot of plagiarism," Dinnigan reveals. "That's probably the reason why I went into costume design and doing rock video clips and things like that. It was just so commercial and whatever I wanted to do, when I worked for a few different companies, they didn't want to hear about it. It was about turning the overseas trends into an income very quickly."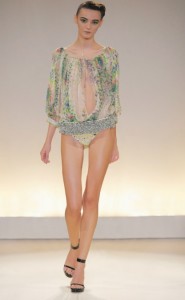 Dinnigan found a niche in the lingerie market, producing a unique line of dry-clean only underwear using silks and vintage laces that eventually became embraced as outer wear. As demand grew from word-of-mouth, Dinnigan realised she either needed to be stocked in stores or open her own space. With no bites from the retailers, she opened her first clothing store in 1992 and within a few years she was being stocked in Barneys in New York, Harvey Nichols in London and had her first fashion show in Paris in October 1995.
While Australia continues to be a largely commercial market, Dinnigan believes her trajectory would not have been as successful had she started her business elsewhere.
"Australia is like this great big backyard, and you've got this huge testing ground to develop and refine your work," she says. "I think all those years ago the world's eyes weren't upon us as much as they are now. But if it works here and you can get a bit of media attention and get some sales, it's a lot easier to take it to the rest of the world."
And the world is where Dinnigan took her feminine designs, with the label now stocked in stores from Kazakhstan to Saudi Arabia. She remains the only Australian to have shown at Paris Fashion Week, a monopoly she wouldn't be opposed to ending.
"I think it would open the door for a lot of designers, to go to Paris," she says. "I'm not at all competitive in that sense and I think the more Australians who have international exposure the better for our business.
"But ultimately I don't want to just see a lot of people going there who can't deliver their product. Because if that happens we'll get a bad reputation and people might become wary of dealing with Australia because 'it's too far away, it's too difficult'. I'm very mindful of that."
Indeed, Dinnigan doesn't suffer fools and is wary of Australia returning to its old ways of copycat designs – an issue that came to a head in August at the David Jones spring/summer launch, when she accused Helen O'Connor, the woman behind the Thurley brand who had been controversially chosen to open the show, of ripping her off. It's a situation Dinnigan admits has occurred before, but one she believes is less prevalent now thanks to the internet.
"I originally thought the internet would be the death of what we do," she reveals. "But to be honest I think now what it has actually done is made everyone so accessible to what the international designers are doing that the consumer is very aware of what's going on. So you need to very much focus on your brand and have your own brand identity because consumers are very worldly, and even if they don't leave the country they can do so on the internet."
With that thought it mind, Dinnigan's 2010 spring/summer collection is touted as celebrating "the unexpected", with a combination of babydoll dresses, sleek evening gowns, tailored jackets and fresh prints. Despite the theme, however, Dinnigan is adamant it stays true to her trademark style.
"It's still very feminine and fresh, but our customer needs to be surprised and needs to see something different each season to come back," she says. "No one wants to see the same film twice only with different characters."
While the collection has been well received by buyers, who are showing renewed vigour following a tough 12 months marred by the global financial crisis, Dinnigan doesn't see herself in fashion forever. After almost two decades in the industry, she admits the demands of producing three collections a year are great, and is already branching out into new projects such as a lingerie line for British retail giant Marks & Spencer and an interiors project in Australia.
"I definitely see myself doing something different in 10 years," Dinnigan admits. "The title 'fashion designer' is something that is so easily said. I've always wanted to be a designer but not necessarily fashion. Had I not been involved in the fashion business I probably would have been doing furnishings or something." For more information, click here.