Overlooking stunning Sydney Harbour, Quay has just clinched a culinary coup by being named Restaurant of the Year in The Sydney Morning Herald 2010 Good Food Guide and Gourmet Traveller 2010 Restaurant Guide for the second year running.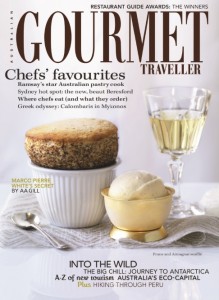 It's easy to understand why. Quay's menu abounds with the unusual and exotic, lovingly prepared by executive chef Peter Gilmore. Blending cutting-edge technique with fresh produce, Gilmore and his team offer dishes that are an incomparable fusion of great artistry and the finest of flavours.

Peering out of the floor-to-ceiling windows, a pageant of boats bob gently on the harbour. Inside, a lunchtime crowd of well-dressed professionals eye their menus or the décor – minimalist lines softened by classic furnishings exuding an ambience of refined elegance. No sign of screaming children here.
The lunch menu, two courses for $75, is a treat considering the view and cuisine.

The restaurant's signature entrée sounds too good to resist – the intriguingly named sea pearls are delicately constructed pods of sashimi tuna, sea scallop, smoked eel, octopus and abalone. Neither is my dining companion disappointed in her selection of mud crab congee, hand-shelled and presented to perfection.

Hungry diners will be pleased to find service at Quay unobtrusive and speedy. Our mains arrive in no time. Mine, a crisp-skin Northern Territory barramundi with white turnips, handmade silken tofu, samphire, spring onions and nasturtiums is a culinary tour de force while my companion is equally ecstatic over her herb-crusted South Australian mulloway with asparagus, garden peas, spring onions and broad beans.
Dessert in the shape of raspberries with violet, almond and vanilla cream competes for our attention with the decidedly decadent eight-texture chocolate cake that is pure kitchen alchemy.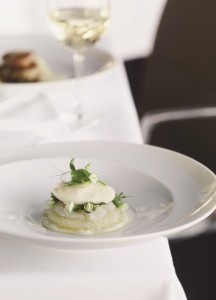 Each dish is testament to the chef's willingness to surprise and entertain. But what is the secret ingredient that sets Quay apart?
Gilmore's devotion to understanding and selecting impeccable produce plays no small part. The former head chef at De Beers restaurant, Whale Beach, was delighted to discover, for example, a supplier in Tasmania who can mail him fresh wasabi flowers in a postal bag. He also works with farmers to bring rare breeds of poultry to the table, researches seed catalogues and has developed his own home garden to experiment with produce.

Foods such as Chinese artichokes, tiny purple onions, native violets, white carrots, white borage, blossoms of carrot, rosemary and pea and the rare and elusive white broad bean create a culinary archive that attracts lovers of rare gourmets.
"I'm looking to nature for my inspiration. Letting the natural produce speak. There's so much out there, so much elegance and beauty – to me it's about the organic nature of food and letting flavours and textures speak for themselves," Gilmore says.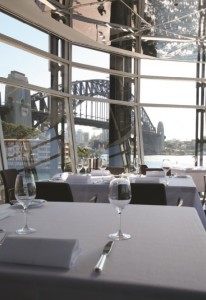 Yet perfection comes at a price.
Working up to 60 hours a week at the restaurant it is clear that, for him, food is both a passion and an obsession. So what does he enjoy at home?

"Something fresh and simple," Gilmore says. "It's always nice just to relax around the barbie with family and friends. Even if you're just cooking at home, it's important to always use fresh, good ingredients. Have your own herb garden, there is nothing like ducking out the back for that fresh basil leaf or freshly snipped chives." For more information, click here.