In opera, as in life, it is often a mad, mad world. So it's hardly surprising that mad scenes in opera abound. They provide a chance for a singer to strut their stuff, with vocal pyrotechnics that are often wilder than the character's disturbed mind.
Michael Romei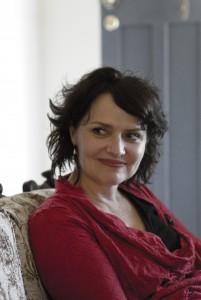 Among the list of opera's unhinged ladies, the title character in Donizetti's famed Lucia di Lammermoor sets the standard for going bonkers. Forced into marrying someone she detests, Lucia charges into act three, smeared in blood and wielding a knife she just used to slice up her betrothed, all the while hallucinating and rambling on about the man she really loves.
It's an iconic scene, boasting vocal lines that stab, float and fly off in many directions – when it's done well, that is. It's one of the most difficult operas to cast and not only because the overall quality hinges on the title role. Indeed, the role of Lucia has a daunting association with some of the world's greatest sopranos, including Joan Sutherland, and opera crowds are renowned for being less-than-kind to imposters.
But despite the role's potential for disaster, it's one that 37-year-old Emma Matthews confesses she has been waiting for since her teens. Regarded as one of Australia's premier sopranos by none other than Sutherland herself, the Opera Australia performer has been knocking on the door of divadom for a while. But now with a rousing rendition of Lucia under her belt, it seems that the door is about to be blasted wide open.
"Nothing's going to beat this," says Matthews, who recently performed the last of ten shows at the Sydney Opera House. "It's just incredible. The way it sits in the voice is great, the emotional journey she has is terrible and she's just so sad. The adrenaline rushes through you during that mad scene, there's nothing quite like it."
Meeting at her home in Sydney's south, Matthews' voice is surprisingly pert for a woman who the night before hit a top E flat with gusto. "I'm actually a bit gluggy this morning," she admits when asked how she's holding up, hanging her head low for dramatic effect. "I dread getting colds and things. Usually the day after a performance I avoid going outside."
Yet for a woman who the night before only slept three hours, she certainly has a knack for turning it on. Matthews' charm is infectious, her theatrics captivating and her wit sharp. With a rich bellow of a laugh and a mischievous grin, it's easy to see how she's dazzled audiences in tongues from French to German to Italian.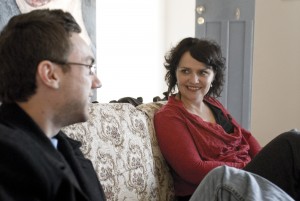 The more Matthews speaks, the harder it is to discern the diva that opera audiences expect from their stars. Sitting in her country-styled music room, which is peppered with classical CDs and photos of past stage performances, she seems a far cry from the European stock of performers, whose tantrums are devoured by the public. The only clue to suggest there might be more to Matthews than meets the eye is the gigantic portrait of her that stares down from the walls.
"Oh, it's hilarious, isn't it?!" she laughs when she catches my gaze. "It was painted for submission in the Archibald. My family aren't huge fans but I think it has a certain use. The kids know mummy is always watching."
But while Matthews isn't the ego-wielding performer some might expect, it's surprising to discover exactly how different she is. For a woman who made her debut with the West Australian Opera in 1991, Matthews admits she is often crippled by nerves and self-doubt.
"I get very stressed out about things and think how am I going to get everything done," she says.
"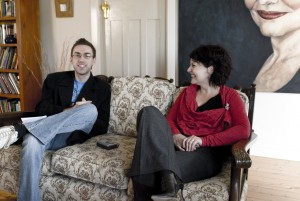 And sometimes I think to myself that I'm not doing as good a job with this role as I could be, I should have had more time on it."
"That's just me, I think. It doesn't help that you work with people who can be very negative sometimes. It's very hard to go into a rehearsal room and be told, 'oh that's not very good, you need to watch this, you need to do that'. Often you don't get the positive, 'that was great'. So you've got to believe it yourself. I think that's the reason why so many performers have egos – you have to believe in yourself to be able to do it, because you get knocked all the time."
It's a personal struggle that was only heightened following the birth of her first son, Jack. Diagnosed with post-natal depression and struggling vocally, Matthews had to continue performing – a period she says was the darkest of her career.
"I was singing Oscar in The Masked Ball, and I wasn't singing well," she reveals. "I lost my top, and I thought 'how am I going to get my voice back in shape?' I was having to learn the German opera Lulu at the same time, which is incredibly difficult, and I was just so negative."
"Then opening night came of Lulu in Melbourne. I wasn't sure if I'd done it well or not, but people later told me my vulnerability was so great for the role. And when the time came for the curtain call I lifted my head and just felt this rush of confidence, this rush of support and love and appreciation. I thought, 'you're back, you're okay'. And from there I sort of picked myself up."
And picked herself up she most certainly has. Now Matthews copes with stress by relying on her family as a support system.
"I know that if something happened to me and I couldn't sing anymore, I'd still have a wonderful life because I've got an amazing family and wonderful kids. So I have a balance – things get to me, but not so much that it destroys me."
The healthy attitude has reaped rewards for Matthews, who in the last few years has racked up an impressive shopping list of accolades, including lead and supporting gongs at the Helpmann Awards and a Mo Award for best classical performance. Beyond her stage performances in Sydney and Melbourne, she recently recorded a solo CD of bel canto arias in Monte Carlo and next year will make her European debut, in Wales.
While Matthews believes there is room for improvement, she is at a strategically high point in her career.
"I think now I'm pretty much, not at my peak, but close to my peak. At a good age, when I can still play the younger girls – well not much, much younger. And I'm getting the big roles now that I couldn't have done five years ago."
Matthews is clearly a high achiever and prides herself on being her own singer – despite being dogged throughout her career by comparisons to Sutherland. "She's a great supporter of mine and a good friend, so I smile when people say that because it's such an honour. But I'm my own singer too. I interpret things differently and have a very different approach to what she did."
"It can be hard at times because she's so legendary, but I don't think you could get two more different voices really."
With Lucia now complete, Matthews is preparing for her next role in Orlando, which she will perform in Melbourne later this year. The score sits prominently on her piano stand, largely untouched. But while she's a notorious late starter, perhaps there's more to it than a simple case of procrastination. It is clear that Matthews, while steering clear of operatic stereotypes in her private life, embraces divahood on the stage.
"I want to do Lucia again!" she exclaims, clamping her hands together. "I just want to do mad scenes now. It's set me off. I'd love to play Ophelia in Hamlet. It's not a great opera, but Ophelia's mad scene is incredible."