For a woman whose moniker has become synonymous with the biggest culinary brand in Australia, it comes as somewhat of a surprise to learn that Donna Hay fell into her life as a foodie almost by default. A teenage Donna originally held aspirations of being a physiotherapist, however, after narrowly missing the university cut-off mark she enrolled in a home economics diploma at her local technical college – and hasn't looked back.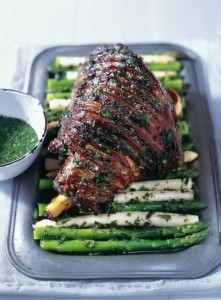 Donna started out working in the test kitchen at the Australian Women's Weekly and, following a stint as a freelancer, was appointed food editor of marie claire at just 25 by editor Jackie Frank.
"My big break was marie claire. It was great. The best thing about starting on a new title is that you don't have a formula you need to follow. There's no kind of preset style, or there's no kind of formula already worked out, so Jackie was a great editor – she just said, 'I don't know anything about food, you do it, I hope I like it'."
During her time at marie claire, Hay also penned several highly-successful cookbooks and made occasional television appearances – one such occasion leading to an open-ended job offer from the show's host, the doyenne of cooking culture herself, Martha Stewart. Hay turned it down, citing a desire not to be hemmed in by "too many rules".
Indeed, Hay gives the impression of a woman used to writing her own rules. When interviewed, at least, she has the soft speech of someone who doesn't raise her voice because she's used to being listened to. Emerging from her private office, Hay settles at a dining table in the test kitchen at Donna Hay headquarters in Sydney's Surry Hills; keeping a watchful eye on her staff as they scurry around the perimeter. During a pause, she catches sight of a pair of workers stepping across some fake grass that had been set up for a photo shoot. She makes a face and instructs, 'don't walk on the grass!'.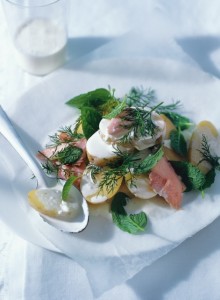 Few would argue that she is a woman who has earned the right to command attention. Her CV is a mile long and her name is a household one, helped along since the launch in 2001 of donna hay magazine, a kitchen-table staple that has amassed a national following second only to News Magazines institution delicious. In 2003, she branched into homewares with the launch of her own range, donna hay home. Hay is now also the food editor of UK lifestyle bible Livingetc and writes a weekly Sunday food column for News Ltd newspapers. In addition, in 2007 she was named one of the 'magnificent seven' cookbook authors by the international Gourmand Awards – no small feat in the culinary world.
"It's exciting, it's not like a chore," she says, "like, 'do I have to do another shoot?' or 'do I have to look at those recipes again?'.
"It's always exciting and everyone's always really enthusiastic, they're all just being well-behaved because you're here!
"We have a good time," she adds.
Despite her growing status as a culinary icon, Hay is known for avoiding the spotlight. She has rejected offers of a reality TV show and, according to her publicist, she usually turns down interviews. Sitting upright, with shiny dark hair pulled back in a simple ponytail and minimal makeup, Hay takes time to consider each response. Her voice is like that of a younger girl, light and airy, and her manner is calm. She is pleasant, but gives little away. Some have accused Donna of overshadowing her food, but today Donna is all about the food.
"There's the age-old saying 'where there's a will, there's a way' and it's true – you just have to look at something from a different angle and be industrious; try to come up with a different way to do something you want to do. It's not always about throwing money at it."
As is often the case with brilliant people, Hay will rarely settle for less than the very best. She has worked extremely hard to achieve her immense success and is not afraid to ask for what she wants. She readily admits to being a perfectionist.
"Definitely. I think to be a good recipe writer; you have to be. You can't just be half on the money, you know, recipes are a science. They have to be perfect," she says.
"Because when you're testing, you could add one tablespoon of brown sugar to a Thai dressing and if it's not sweet enough then you've got to be sure that if you're adding one extra teaspoon, you're writing it down the whole time.
"So that's probably why it's pretty intense in here while we're testing, because you've got to get it right."
Rumours abound that Hay is a tough colleague, driven by a steely determination to get to the top. Former employees have spoken about her tendency to be demanding, with tales of tears in the office not uncommon. In 2003, half a dozen staff resigned from donna hay magazine, including co-founder and Hay's former best friend, Vanessa Holden. Stories differ as to why the partnership folded. Holden, now creative director for Real Simple magazine in the US, has said in the past that her contribution was not recognised and that she felt used by Hay. However, Hay maintains that donna hay magazine is definitely not a one-woman show.

"But as much as I like to have my name on it, the magazine is a real collaborative effort. We look at the magazine as 'our magazine'; it just happens to have my name on it because it fits across the top."
Names aside, the magazine is a beautiful ode to food. Under Hay's direction, the publication's fresh, simple style and inspired photography have helped her set a benchmark in food publishing. Hay's roots as a food stylist are evident – and not always in a good way. donna hay magazine has been criticised for being more about style than about real, useable food, some critics even going so far as to suggest Hay is less a chef than a "glorified food stylist".

However, it is more than pretty pages that have earned Hay her legions of adoring fans. Her work has inspired multitudes of home cooks to swap ready-made meals for fresh vegies and an apron. She becomes animated when discussing her passion for providing people with an alternative to fast-food culture.
"I think that even if you're an accomplished cook, people just don't have time – they don't have time to do a lot of things they want to do in their lives. I don't think it's that they want to eat convenience food or prepared food; they just want fresh, simple recipes they can follow."
"I like to write recipes that fit into people's lifestyles and their constraints. Why write half the recipes in the magazine that have single ingredients from a specialty store here, and one here and one there – how are people ever going to find time?"

While most chefs typically avoid the kitchen when off duty, Hay says she enjoys cooking at home.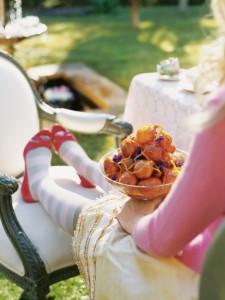 Her partner, Bill Wilson, is a farmer originally from New Zealand and the pair have two sons aged two and five.
"They're lovely. I just spend as much time with them as I can, out bike riding – or they like to get rugged up at the moment and get their torches out for a bit of a walk, it's pretty funny."
"The older one has kind of twigged onto the idea that my name is on a magazine but that's about where it stops, he doesn't go 'my mum, my mum!' and I don't make a big deal out of it. If anything, I probably play it down. He thinks I come to work and cook."

It's doubtful whether she will be able to keep the cat in the bag much longer, with an eponymous grocery store and a range for Royal Doulton just around the corner. For Hay, the buzz of success is still burning bright.

"I don't know if it was exactly 'oh, I've made it!', because you always think that, well I always think, that there's more to do. It's creeps up on you every now and then. You're in Paris and you walk past a cookbook that's been translated and you go 'wow, that looks like my book!' and you look around, and you know, you're just a stranger in another country.
"There's nice little things, you know I can walk past David Jones and see my new book in the window, or I walk past a newsagency and I see the magazine poster outside the window. It's really exciting."