From critical acclaim at Australian Fashion Week to Hollywood A-listers scrambling to get her latest garments, this popular Sydney designer's star is on the up and up
There is something very refreshing about a woman who embraces her shortcomings and readily admits to relying on her team to help with the hands-on things. She can't sew, sketch or cut, but Fleur Wood is one of Australia's top fashion designers.
Surrounded by men and women snipping, sewing, and creating floaty slips draped artfully on clothes hangers, and great glass jars of fabric swatches, Fleur is gracefully perched on the edge of a couch in the middle of her studio. The walls are peppered with dozens of framed pictures of pretty ballerinas, as well as mirrors of all shapes and sizes.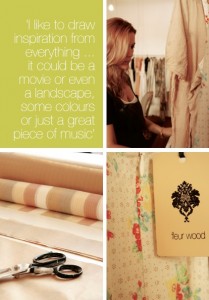 "I haven't had a chance to apply make-up today," she says. "Do you mind if I do it now?" Moments later she is brushing silvery powder onto her eyelids and daintily dabbing gloss onto her lips.     She talks casually and somewhat distractedly about her experiences in the fashion industry, all the while transforming herself into the tousled, blonde beauty that fashionistas are so familiar with.
"It takes a lot of work," she says of breaking into the notoriously tough high fashion market. "I have definitely put the hours in and worked hard for a long time … Back in the first few years I busied myself six or seven days a week and worked anywhere from 8am to 8pm, or even 10pm, regularly."     Her climb to the top was made even more difficult by the fact that she had limited experience in fashion when she started. At the age of 23 she spent two years living in a nunnery in the Indian Himalayas, where she worked to design ranges for a culture preservation project for the Tibetan exile government. Fleur admits transforming that experience into a successful label was a steep learning curve.
"I developed skills on the job actually," she says. "I made things up as I went along, pretty much. I didn't have any experience in the industry. I still can't draw – I have design assistants who do the drawing for me. We talk concept, and talk about what we want the collection to look like, then they'll sketch it and come back to me. We work like that."
Fleur's eponymous label, launched in 2001, is known for its eclectic mix of ageless, floaty, feminine pieces. But the now global franchise, stocked all over Europe and the United States, was born of humble beginnings. She began her business by importing fabric from India to Australia in 1999. Just two years later, Fleur took the brave and ambitious step of launching her very first collection.
"It was very small when I started," she says. "We did four slips in four different colours so it was really tiny and wasn't difficult. I didn't start out with a vision of it growing into a full-on collection like it is now." Fleur's philosophy for the brand is that "every item in our collection is a little piece of luxury." As well as that, she prides herself in the fact that all garments are ethically manufactured, no animal products are used, and a percentage of company profits goes to charities in India.
It may well be the simple philosophy behind the designs that makes them so popular. The most important thing in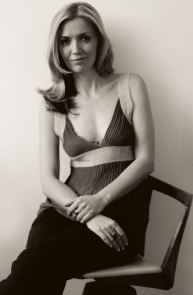 Fleur's opinion is that the clothes have to make women feel good. "Our clothes are feminine and they have a timelessness about them which makes them easy to wear."     As well as women's clothes, Fleur Wood includes a range of homewares and accessories garnered from luxurious fabrics in classically beautiful and modern designs. No wonder Hollywood is already flocking to the label for red-carpet ready pieces.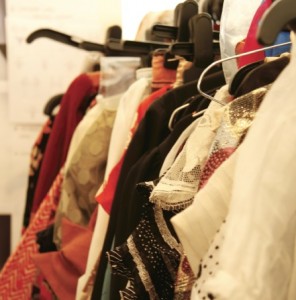 Nicole Richie, Paris Hilton, Kate Hudson, Cameron Diaz and Mischa Barton are some of the better known fans of her label, not to mention countless others who haven't yet been photographed sporting Fleur Wood frocks. "You don't always know if someone is going to wear your dress on the red carpet. Sometimes these things are decided at the last minute …Often you'll just be flicking through a magazine and you'll see one of your dresses."     Fleur has often drawn upon her love of all things India for inspiration. More recently though, the young designer has expanded her influences. "I like to draw inspiration from all over," she says, "anywhere and everywhere.
We reference vintage, or it could be a film, a landscape, some colours or music … we travel and we also have samples sent to us. And decisions are usually made on a gut feeling."     A much-coveted invitation to show at Australian Fashion Week can very often mean the difference between relative obscurity and dazzling popularity.
Once given opportunity to present new work on the catwalk, an aspiring designer commands the attention of the best boutiques and department stores. Fleur made a popular debut in 2006, only to follow it up with an acclaimed collection in 2007.     "It can be incredibly stressful, it's very busy," she admits. "Such a huge deadline creates an enormous amount of pressure … in that there's the fear of the reviews, so it's a very stressful week. It's also kind of fun, yet pretty crazy. I'm glad it's only once a year."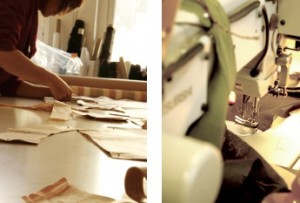 Conversation turns to the state of the Australian fashion industry as a whole. Fleur is a fan of many local designers, and has no plans to relocate overseas, bucking the trend set by some of her contemporaries who leave Australia behind upon reaching the kind of global popularity she now commands.     "I think we should be really proud of the fashion we produce in this country," she says. "I love a lot of the Australian designers. We've got some really great talent such as Ginger & Smart, Zimmerman, Marnie Skillings and Kirrily Johnston."
Her advice for aspiring designers wanting to make it big in fashion is simple. "I think the best thing you can do if you want to be a designer is to get in and get work experience. Pick a couple of companies you like and approach them for work and work experience to get your foot in the door. Then just work your way up and learn on the job."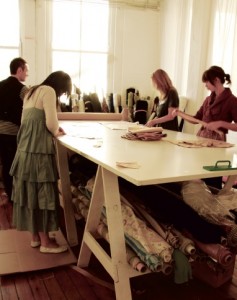 Although she has just finished work on her winter 2008 collection, Fleur is tight-lipped about the new direction her label is going. Despite being adamant on not revealing any of her upcoming designs, as she walks past swatches that have inspired the season, she divulges that "it has a bit of an art deco feeling."     From her store's prestigious position in Sydney's Paddington to the exclusive shops of New York, Tokyo and beyond, it's clear to see Fleur has touched the four corners of the world with her simple philosophy and her passion for everything good about fashion.   For more information click here.