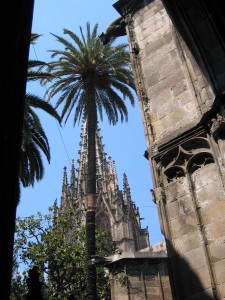 Barcelona has always been slightly surreal. The inspiration for artists including Salvador Dalí, Joan Miró and Pablo Picasso, and a living monument to the bizarrely wonderful architect Antoni Gaudí, the city has been described by locals as the 'great enchantress'.
A pulsating, sun-kissed place that displays a sense of style unrivalled in the rest of Spain, it is little wonder that director Woody Allen – who for so long had been composing visual odes to his beloved New York – decided to venture to Barcelona to film his recent offering, Vicky Cristina Barcelona. With a delight he hasn't shown in years, Allen presents an upscale tourist fantasy that actually lives up to the hype – one which suggests that rather than being an enchantress, Barcelona might be better described as the great seductress.

To best soak up the Catalonian charm and take in the glory of its architectural treasures, Barcelona is best explored on foot, so be sure to pack a pair of trainers. However, your legs will only get you so far, making some form of public transport necessary. Lucky for Barcelona's tourists, the city's metro system is one of the best in Europe, being both clean and efficient. For those wanting to cover a lot of ground, purchase the tourist travel card (from €10.70 / $18.60).

An ideal starting point in Barcelona is La Rambla. This stunning tree-lined walkway is the city's most famous street, and (as evidenced by the crowds) is adored by tourists. In addition to the glamorous designer stores and top-notch restaurants, La Rambla also boasts an array of market stalls (including those selling a mind-boggling selection of live animals) and an army of street performers (mimes are Barcelona's specialty). Begin your walk at the Plaça de Catalunya and work your way down the one-kilometre avenue to Port Vell, Barcelona's palm-fringed – and slightly tacky – seafront that has thrived since its Miami-themed makeover in the 1990s.

To the east of La Rambla is the historic area known as the Barri Gòtic. A labyrinth of interconnecting streets and squares, it boasts structures that date back to the 13th century. The most impressive of these is the Cathedral of Santa Eulàlia (open from 7.45am-7.45pm, €4), which is one of Spain's most awe-inspiring examples of Gothic architecture. For those around on the weekend from February to July or September to November, grab one of Barcelona's traditional hot chocolates (and don't forget the churros for dipping!) and sip it in the cathedral square while watching the sardana, a Catalan dance performed by active seniors who put most onlookers to shame (6pm Saturday and noon Sunday). For lovers of Picasso, the nearby Museu Picasso (10am-8pm, €9) is a must, exhibiting the master's works from his Blue Period (1901-1904).

For those with a penchant for museums or a fabulous view, some of Barcelona's best offerings are to be found on Montjuïc, the hill overlooking the city from the south-west. The best way to get there is to head to Plaça d'Espanya and take the stairs (or even better, the escalator!) up the hill. At the peak, you'll immediately be drawn to the imposing Palau Nacional, which was built in 1640 and houses the Museu Nacional d'Art de Catalunya (Tuesday to Saturday, 10am-7pm and Sunday 10am-2.30pm, €8.50). With a collection ranging from Romanesque murals and Gothic frescoes to modern Catalan art, there's something for everyone. If visiting on a Friday or Saturday night (October to June between 7pm-8.30pm, July to September between 9.30pm-11.30pm), stick around for the unforgettable water, light and music display that is held on the terraces below the Palau.

Also located on Montjuïc is the Fundació Joan Miró (10am-7pm, €8), which houses a lovely collection of paintings, drawings and tapestries by this Catalan master known for his use of primary colours and organic shapes. The kids will enjoy the Poble Espanyol (hours vary, €8.50 for adults, €5.50 for children), which reconstructs Spanish architecture from various regions, while sports lovers should head to the other side of Montjuïc where they'll find Barcelona's impressive Olympic Park, site of the 1992 Games.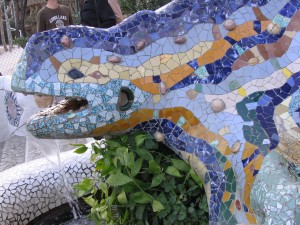 But let's be honest, the reason most tourists flock to Barcelona is to pay homage to the city's best-known resident, the legendary architect Antoni Gaudí. His most remarkable project, La Sagrada Família (April to September, 9am-8pm), is still a work in progress. Despite construction having started in 1882, the church won't be completed until 2026 – understandable considering it is set to have 18 towers – 12 for the apostles, four for the evangelists, one for Mary and one for Jesus. Entrance is €11, with an additional €2.50 to ascend the tower (beware the queues!) – culture isn't always cheap, after all.

Ten minutes walk from La Sagrada Família along Carrer de Provença will see you reach Gaudí's last secular building, the Casa Milà (9am-6.30pm, €8) or La Pedrera. Designed for a wealthy businessman, it is a curvy limestone house with an array of chimneys that have been decorated in various fragments of marble, glass bottles and tiles.
A visit inside is a spectacular treat as is another Gaudí architectural delight, the fantastical Casa Batlló (9am-8pm, €16.50) on Passeig de Gràcia, a short walk south. Inside is a world of radical make-believe that few cannot marvel at. Reserve a ticket in advance to avoid a long wait.
Slightly off the beaten track, but certainly not to be missed for fans of Gaudí's monumental efforts, is Park Güell. Situated on a hill overlooking Barcelona, this unique park was originally intended to be an elaborate garden city combining housing and urban green spaces. With viaducts, containment walls and serpentine columns – all covered in elaborate mosaics and ceramic – it is as Gaudí as it gets.

But with the park located on the outskirts of Barcelona and inspiring little interest, the project was cast aside, leading the designer himself to purchase one of the two houses that were built. Such difficulties are now long forgotten, as tourists (and the ever-charming hawkers) swarm the sculpted hills to enjoy a panoramic view of the city – not to mention the bizarre sensation of having stepped into a Dr Seuss book. Be sure to stop by the old superintendent's house for a vivid retelling of the park's colourful – in more ways than one – history.

With all of Barcelona's cultural offerings, visitors are certain to work up an appetite. Many food connoisseurs claim Barcelona now trumps Paris in the culinary stakes, and regardless of whether you agree or not, you're sure to find some incredible gastronomic offerings. Restaurants heat up at around 10pm (the Spanish like to eat late!), so forget about any early-bird specials. Catalan food is typically Mediterranean, and in addition to the staple paella and tapas, the adventurous will be wowed by local dishes such as sarsuela (a seafood medley combined in a casserole with olive oil, tomato, lemon and white wine), fricandó (fillets of veal cooked with plums, tomatoes, onions and mushroom) and the devilish crema catalana (like crème brûlée with a Catalan twist). For those who can manage to move after feasting, Barcelona is known for its wild nightlife, with no shortage of clubs and bars pumping any time of the week.

Barcelona's unique charm and cultural offerings ensure a vibrant destination for any traveller to the continent. With the added bonus of beaches, this seductress is sure to capture the hearts of sunseekers, culture vultures and even hard-to-please foodies.