Sports is his first love When he's not engaging in sports, media commentator and Australian water-ski champion Mark Beretta is talking about it.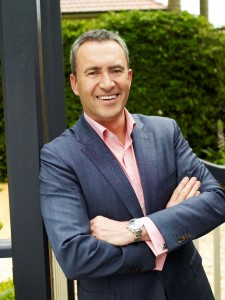 Known for his easy on-screen repartee on the Seven Network's top-rating breakfast program, Sunrise, Mark "Beretts" Beretta is now catching his breath.
"Just been for a bike ride," he pants, staccato style. "Saved me a trip to the gym…I usually head down to my local two or three times a week.
"I'd like to start commuting to work, but the trip at 4am is not ideal. The overlap with people coming home from the night before is the biggest concern."
It's highly unlikely many would mistake the 43-year-old 'nice guy' for a hard-partying reveller who'd just pulled an all-nighter. The immensely likeable Beretta is too much of a fitness fanatic to be any sort of wild child. Then there are those 4am starts.
Beretta says it's a good thing the Sunrise team get along so well. The camaraderie he shares with his co-presenters, including Natalie Barr and David Koch, is obvious.
"We genuinely like each other and that's something you don't always get when you work so closely together, especially on television," Beretta says.
As the sports anchor for the show, the sports-obsessed former engineer seems to be living his dream. Beretta is today at the top of his game, having covered almost every major international event over his 20 years in sports journalism.
After beginning his career in journalism at Radio 3GL in Geelong, Beretta moved to Triple M Melbourne as a sports reporter to work alongside the controversial former head of the Nine Network, Eddie McGuire.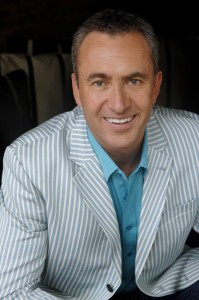 A stint anchoring the Ten Network's National Basketball League coverage followed, but within a year Beretta had so impressed executives at Seven that he soon moved on to take up a plum post as sports reporter.
Seven then landed the broadcast rights to the Olympic Games, offering the keen sportsman a chance to mix with the world's sporting elite. Now a veteran of four broadcasts, Beretta says one of his career highlights was being behind the microphone during the gold medal-winning performance of freestyle aerial skier Alisa Camplin at the 2002 Winter Games in Salt Lake City.
"It really was a spectacular moment," he recalls.
"I was also very proud to be selected to carry the Olympic torch in Canberra in 2008 on one of its final legs."
But not many can claim to be on the front line as one of our greatest athletes raced to victory and united an emotional nation. Beretta was a host during the Olympics telecast as Cathy Freeman sprinted home to win gold in the 400 metres during Sydney 2000.
"For me this was a rare privilege, ranking on par with the time I was fortunate enough to be poolside for Kieran Perkins' gold-medal swim at Atlanta in the 1500-metre freestyle," he says.
The sports anchor's own achievements are not too shabby. A 10-time Australian water ski champion and silver medallist in water skiing at the Singapore International Masters, he also holds a record in the United States.
"That was a thrilling period of my life naturally, however it was also a very challenging and highly demanding time," Beretta says. "I guess you don't think too much about it when you're in the middle of doing it; it's only later that you realise how much you have actually managed to achieve."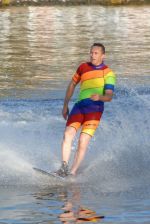 The Victorian native got a taste of the sport early – and he was hooked.
"When I was four Mum and Dad tossed me in a boat on the Barwon River. That was my first experience of water skiing," he says.
"Probably my favourite bolt hole was Yarrawonga on the Murray. Having grown up water skiing on that mighty stretch of river, I always love getting back there. It's best on a scorching hot day, when you just spend your time skiing, in the boat, and jumping in and out of the river."
Today Beretta often takes wife Rachel, five-year-old daughter Ava and two-year-old son Dan out for a spin on Middle Harbour, near their home base on the northern shores of Sydney.
"The kids are a bit small but they seem to really enjoy being out on the water just like I did when I was that young," he says.
Since 2007, Beretta has found another outlet for his need for speed.
As part of the pit-reporting team with Seven's Grant Denyer and Daniel Gibson he morphs into revhead persona as a reporter on the V8 Supercars Series, along with commentators Neil Crompton and Matthew White.
"I remember my brothers and me getting our first billy cart. Ever since that time, I've always loved to race.
"That's why we all love the V8s," Beretta laughs. "Speed and sound. Very few things in life get the blood pumping like a roaring V8 supercar. On any given day, only fractions of a second separate 15 or 20 V8 supercars. It's red-hot racing!"
He enthuses that being in pit lane for the Bathurst 1000 is a lifelong dream and it's going to be "pretty hard to top" this year.
"Mount Panorama is such a challenging and respected circuit for drivers and the 1000 always produces surprises, so it's circled in red texta on my calendar! Also I've been up to Indy weekend on the Gold Coast for the last few years and it's an incredible spectacle, so that'll be anotherone to look forward to."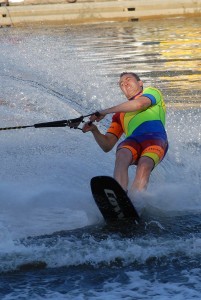 With all this intense, pulsating action around him, surely Beretta wouldn't mind being back at the centre of it?
"I've got my dream bike and I'm not good enough really to ride it but I love everything about it," he says of his prized Ridley Excalibur. "I'm definitely a mad keen cyclist."
But Beretta does admit that the urge to score a trophy or two is still never far away.
"I do enjoy an adrenaline rush and am fairly competitive by nature … There's still a certain fire of ambition in my belly to be sure, but nothing so serious that it gets in the way of having a good time with the Sunrise team," he says.