Honey Hartley knows how to get noticed. From perfectly coifed, artfully styled blonde locks, to a waif-thin figure ensconced in her own painfully stylish garb, to her rock star name, she appears to be a product of her own design. She is a seasoned professional, having pursued a career in advertising and public relations before following a seemingly inevitable path towards fashion, and it is clear that behind the apparently light and fluffy exterior lies a steely ambition.
Zoya Sheftalovich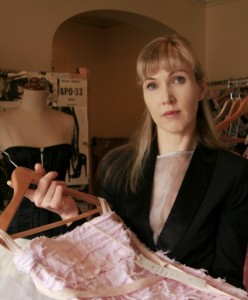 Hartley burst onto the scene in 2004 with the grand opening of the punk-glam Miss Honey boutique in Paddington, Sydney's fashion-forward capital. Just one year on, the label was critically acclaimed at Fashion Week, grabbing the attention of US and European agents. Not bad, considering Hartley only began her education at the famed East Sydney Design Studio in 2002.

We meet at her home-cum-studio in Double Bay. Sheets of fabric, dresses, skirts, jackets and accessories are everywhere – racks of them line the walls, they even hang from the ceiling. An ancient Singer sewing machine shares a tiny table with labels, pens and a bunch of odds and ends. Any free wall space is covered in statuesque paper doll cutouts, sporting paper versions of Hartley's famed designs. Chet Baker is playing in the background, moody jazz crowding the space even further.

"We're going to have to move soon, there's just no room," she explains. Judging from the sheer volume of material that seems to have exploded all over her home, no space will be big enough to contain it.
Fashion has always been a strong presence in Hartley's life – her grandmother was a milliner, her mother a model, her great aunt a fashion buyer and her aunt a fashion parade caller for David Jones. "It's always just been in my family, the rag trade."

But Hartley resisted the pull of the catwalk for years, instead developing a penchant for art. "When I was in high school I wasn't really into fashion at all. I did a sewing class and I was thrown out – I was hopeless at it! But I've always drawn these Barbie-type girls and I used to cut them out and give them glamorous gowns. And somehow that translated to fashion later on."
How did someone who was – by her own admission – completely disinterested in the fashion world develop into one of the Australian scene's rising stars? Hartley explains that the passion was always there but she held back for practical reasons. "I just never thought I could make any money out of it."

So Hartley started life as a decidedly unglamorous schoolteacher. "But that wasn't my choice, that was my parents' choice. They wanted me to do something sensible. I wanted to go to art school but they thought I'd be too wild and off the rails. They were probably right."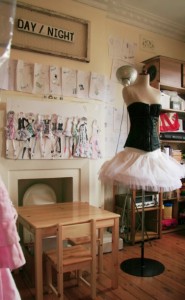 After teaching came graphic design and advertising. Hartley was successful in both fields but neither managed to capture her imagination.
"I was working in advertising on a Lindt Chocolate campaign and I was so bored. I'd already drawn the campaign and had the meetings. There was nothing for me to do apart from sit around and wait for the shoot to happen, which takes a million years. And while that was going on I was just drawing and sketching. A couple of guys said to me, 'Why are you in advertising? Why don't you just go into fashion if that's your dream?'"

It was a moment of clarity, Hartley says, so she quit her job and enrolled in design college. It was an invaluable move, but more difficult than she had envisaged.
"It was the hardest thing I've ever done. It is so intensive, there's so much work, and a lot of people drop out. But I needed to be educated. A lot of people aren't and they just go along and get other people to do everything for them. But unless you really know how to cut a garment – the mechanics behind it – you can't communicate properly with your makers."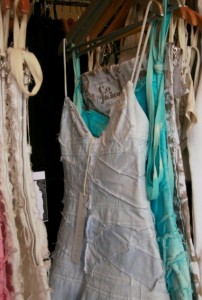 After learning the fundamentals at college, Hartley spent just two years working for another designer before launching her own high-end fashion label.
The Australian market is small and designers tend to play it safe, following popular trends and shying away from anything too unusual. According to Hartley, Sydney in particular is behind the times when it comes to fashion. "The magazines never want to do winter, they just want to do summer. Everyone's got tans all through winter in the social pages. It's a champagne cocaine city, Sydney. That's what it's all about."

"And everywhere else is boring, nothing is going on. Everything is still rehashed 70s or 80s. I mean, platform shoes are still in, and they've been in for the last 15 years! I always wonder when there is going to be a new art movement. I think that's the problem – there's no new German expressionism or Dali or anything."
But Hartley's clothing was different from the very beginning. Her influences have ranged from the punk movement, to 1970s Blacksploitation films, to old Hollywood glamour, to bondage.

"In my mind I can't copy other people. I couldn't be bothered if it came down to that, I'd just walk away if I had to copy other work to make money. I just refuse to do it. If you bow to the pressure [to cater to demand] then you're just going to be the same as everybody else."
Hartley credits originality, as well as her public relations background, for her initial success.
"From advertising and from the graphic design background I knew what I had to do to get attention," she explains.

"When I opened my store, it was very avant garde and the complete opposite to what everyone else was doing. I'm also very hands-on, which got me a lot of attention because I did all the dying, the sewing. My clothes aren't made in China. To me each garment is a piece of me, a piece of art, and I want people to really love it."

And people do seem to really love it. While Miss Honey closed in 2006 because, Hartley says, it was too stressful to maintain – especially while she was pregnant with her daughter – she hasn't slowed down. The label is still big news in the world of high fashion – it is stocked in exclusive boutiques and has been worn by everyone from Australia's own Zoe Sheridan to Fergie from the Black Eyed Peas.
But, ironically enough, the coffers aren't exactly overflowing. Yet.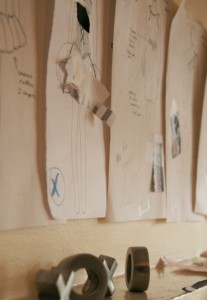 "It's a very expensive business. The shows alone are about $30,000 to run and I use all the best fabric for the designs, so my costs are really high – but I can't mark them up too much or it would be a bit ridiculous. I was trying to explain it to my parents, and they were saying 'but what are you making out of that?' and I'm like 'are you kidding?'"

"To make money in high fashion you can't mass-produce the same designs. You have to get stocked in all the most exclusive boutiques around the world."
So Hartley plans to expand her label overseas. More than anything else it seems, she is determined to be in Italian Vogue – the only fashion magazine she regularly reads.

"Unless I'm in the Australian magazines I don't really buy them. They're three years behind anyway, so there's no point. It's not their fault, but I just don't bother. I buy Italian Vogue and that's it."
But before she makes the leap to Europe and the US, Hartley will unveil her new collection, entitled Venus in Furs.
"It's due out pretty much now. The inspiration is the Velvet Underground. I don't listen to them all the time, I just like the whole scene that was going on at the time. We're going to do a lot of hand painting on velvet, and lots of faux fur, and it's going to be really amazing."