The TV personality, popular author and passionate chef reveals the secrets of good cooking – even for those of us with kitchen talents reserved for the microwave.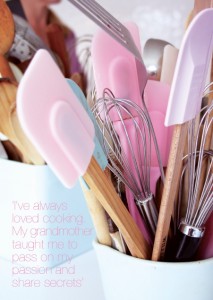 Arriving at the steps of Janelle Bloom's house – one of the famed chefs from the popular TV show Ready, Steady, Cook, – one familiar with her talent has to be forgiven for an audible stomach growl. Janelle wrenches open the door with a beaming smile. She is more petite than one might imagine, but every bit the lively and inviting person she presents on television.
"You've got to try these," Janelle says excitedly, as she reaches for a carton filled with fresh oversized cherries the size of plums.     "Oh! And these strawberries are delicious," she continues. "Would you like a drink? A latte? How about some of my homemade raspberry cordial?" At Janelle's suggestion, we shift from the kitchen to the dining room. "Oh, I almost forgot!" she exclaims before racing back to the kitchen. On her return she is carrying a plate of cherry cheesecake brownies.
"They're a new recipe. You can be my guinea pig," Janelle says, smiling, before beginning to explain all about her love of food and why she decided to enter the cooking profession. "I've always loved cooking," she says. "I used to cook a lot with my grandmother in the kitchen. And I learnt from her to pass on my passion and to always share secrets … So, initially, I wanted to become a home economics teacher".
Unable to handle living on campus to study teaching, Janelle gave up the home economics idea after about three weeks to go and study at TAFE before being offered a position at an exclusive cooking school in Edgecliff. So what might cooking school involve? "Well, you start with all the very basics," Janelle explains. "So, we'd spend a whole week making scones, rock cakes, crêpes … and we'd do these over and over until they were perfect. Then we had international cuisine where you'd travel the world in the kitchen. And there were also photography classes where you'd have to make things look perfect and work with a photographer."
Janelle recalls her early experiences working for electrical appliances giant Sharp, where she earned the title "Queen of the Waves". "I worked in the test kitchen where we developed all the programs for the microwave … I think I might have cooked about 400 chickens just to get that one program. Seriously, chickens for three months to get the timing perfect!"
"And you know, at the end of the day I don't think anyone ever used the programs," she says, laughing. "But it taught me a lot. I think the microwave is a great appliance, and there's not a lot of people who say that." Such skills have certainly served Janelle well during her four years on Ready, Steady, Cook, where two chefs and their inexperienced audience apprentices compete to produce four dishes in 20 minutes. It was a job Janelle was reluctant to accept at first, but one she now says she'd happily "do for nothing". It also provides her a healthy dose of competition.
"It's a massive competition!" she says. "The boys have a tally [of who wins], unlike the girls. I know I kick their asses though. They hate it! One, because I'm not a trained chef. And two, because I'm female. So it's a double loss if they lose to me." As it stands, Janelle's favourite ingredient to work with is chocolate. "I've always won when I've had chocolate. Dark varieties are great, because it looks better on television".     Janelle says she's never had aspirations to open her own restaurant due to the "unsociable hours", but she would one day like to open a deli that could be converted into a cooking school in the evening, as "then you can serve what they make the next day!".
For the time being, however, she is content filming, writing recipes and increasing her charity involvement, most recently with Ronald McDonald House, an independent not-for-profit organisation that helps seriously ill children and their families lead happier, healthier lives by offering family rooms within hospitals around the country, or family retreats in specially set up resorts for those in need of a relaxing time or short getaway.     The passionate foodie has also had the opportunity to work as the food editor of Super Food Ideas – Australia's number one food magazine. In total, Janelle has been a food writer and food stylist for over a decade and has also appeared on our televisions in What's Cooking? with Geoff Jansz and more recently, Fresh Cooking with Jason Roberts.
Janelle is keen to encourage the belief that everyone has the potential to cook well, that achieving results in the kitchen can be fun and easy, and that mastering the art is all about passion and confidence. So, does she really believe everyone has what it takes to cook well – even those of us who have the kind of kitchen skills that leave us with the potential to burn ice-cream when left to our own devices?
"I do think it's something everyone can be good at in one way or another," she says, smiling. "You see, cooking well is about time and it's about patience. If you have a good recipe, where all the information has been passed down accurately, anyone can follow it."     "Initially I'm looking at being distributed by an America-wide and also well-recognised name such as Barneys New York, but I haven't dismissed the idea of being supplied to a retail outlet. We'll just have to see how it goes when I get there."