Henri Szeps 'I can't ever say goodbye. There comes a point of separation where I'm handling it. Then there comes a tipping point … I just turn and walk away' The Swiss-born actor and comedian talks about his past and his genuine fears for the entertainment industry of the present, and reveals secrets about his plans for the future.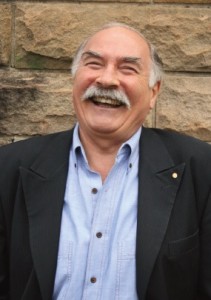 Henri Szeps OAM (an honour he was awarded in 2002), consummate stage actor and one of Austrlia's best-known performers slips in and out of character with amazing ease. Constantly in motion, he skates between personas so fast it's head-spinning.
Mid-conversation, the entertainer transforms into a circus performer, his "refo" parents, a schoolyard bully, a psychiatrist – it is quite a struggle just to keep up with him. Dramatic pauses pepper his speech, and he swears like a sailor, especially when he wants to emphasise a particularly pertinent idea.     Perhaps best known for his role as Robert Beare, the deliciously evil dentist in the popular ABC series Mother And Son, Henri has spent most of the last four decades on stage, silver screen and television. It's fitting then that the interview is conducted in a large open-air amphitheatre in Sydney's Leichhardt.
Born in a refugee camp in 1943 in the Swiss town of Lausanne, Henri was shuttled all over Europe in order to escape the wrath of the Nazis. Before the age of eight he had already moved eight times. But despite everything, he speaks without bitterness of the constant uprooting he endured as a child.     "When I was 11 months old," he says, "my mother fostered me out to a wonderful Swiss family. When I was three she wanted me back. When I was four, she picked up an ear infection, so she sent me back. When I was six she wanted me again and they didn't want to let me go, and there was a 'war', which she won.
"Nine months later I was in the Rothschild's orphanage in Paris, because my mother was ill again and she couldn't send me to the Swiss people … my seventh birthday was celebrated in this orphanage.     And then, of course, we came to Australia." Because of the constant upheaval, Henri developed a pathological fear of saying goodbye.
"I can't do it.     I kind of just walk away. At the railway station, the airport, there comes a point of the separation, and I'm handling it," he explains. "Then there comes a tipping point. And I just have to turn and walk away."     Spending part of his childhood often unfamiliar with the language of the country he found himself in, Henri found a kind of communication he felt comfortable with – that of performance. "I'd always wanted to be an actor," he says. "I was doing it in primary school. Bullies would talk to me after I'd done a performance. It was the power I felt – the ability to talk to an audience, that I could see none of the other kids had."
Although regularly performing in plays at Randwick Boys High School, Henri veered off the path of performing and instead studied electrical engineering and science at Sydney University. After graduating, he was "gainfully employed" as a research assistant.     "I had working class, 'refo' parents, so you've got to reassure them that you're going to survive – you've got to reassure yourself you're going to survive! And I loved maths, I was good at it," he explains.     At 23, Henri was offered a postgraduate scholarship in order to continue his studies. But the acting bug would not be stifled.     "The fastest you can do a PhD is three years," he says. "By then you're 26, and you haven't started showbiz. So I took my life in my hands …     I thought: this is the moment in life, this is the turning point, where you knock something back that would have opened up one life. And that took guts, because at that stage there was nothing else being offered."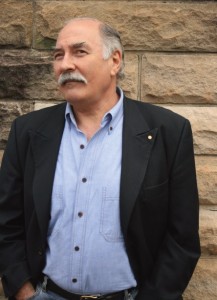 Henri was not short of offers for long at all. He starred in Friedrich Dürenmatt's The Physicists with Don Reid and Reg Livermore, George Bernard Shaw's The Apple Cart, and in Woody Allen's Don't Drink The Water.     He also appeared in television hits Homicide and You Can't See 'Round Corners. One of his pivotal performances came in 1968, in Mart Crowley's rather controversial The Boys In The Band – a play about a gay man's birthday party.     "That play changed society," says Henri. "Suddenly we had 'poufs' on stage, some married, some faithful, some unfaithful, you had Jews, you had blacks, you had bigotry and Catholics, and all facets of human society in the gay world. It acknowledged gay people as humans. Before that, whenever there was a gay person on stage, they were a joke."
The play became a cultural icon and a smash hit. And backstage, on the eve of a performance, Henri met his wife-to-be, fellow actress Mary Ann Severne.     "The first time my wife saw me was as a pouf !" he says, laughing. "She came and saw The Boys In The Band because three of the guys had been to drama school with her at NIDA, so she came backstage … we went for coffee afterwards and she read my palm!     Within two months we were shacked up together, and then within four or five months we got married." But while successful in Australia, Henri decided to hone his acting skills in England.
"Back in the late '60s and early '70s," says the actor, says, "we were so parochial here in our approach to acting. It was really B-grade nonsense … You just had to get out of here and go and play with the big boys elsewhere and see what they did."     Henri arrived in England in 1971. There he starred in I, Claudius with David Warner, one of the most influential and breakthrough performers at the time. "To watch David – demented, weird, twisted and delicious David – to see how he used his personality in a character was amazing," says Henri. "No mirrors, nothing up his sleeves, just his own blood and guts and memory, and love and hate, and to put it into that character, to see him do it so realistically, so simply, so easily – I had never seen that. He almost wasn't acting, but was still saying the lines."
Today, Henri is very much optimistic about both Australian and international acting talent, yet not so positive about the direction the entertainment industry as a whole is heading in. He believes Hollywood is failing to connect with people – a symptom of its desperation to excite.     "What's bad," explains the performer, "is the context within which we entertain these days. I think it's abysmal. Most of the time we're not even talking about what really concerns people.     "We're trying to do excitement, we're trying to do raw sex, we're trying to do greater violence than has ever been done before, we're trying to just titillate. God forbid should anyone be bored!"
Indeed, Henri firmly believes that some of the most critically-acclaimed movies of recent times are more destructive than anything, because by pushing the envelope they desensitise people to others' pain.     "There are roles I wouldn't play," he says. "If I feel the vehicle pollutes, damages, it sends out bad stuff – stuff that desensitises an audience – I have a real problem … Silence Of The Lambs is a pollutant, it's an evil piece of work. I'm being moralistic now, I know, but it is impossible for that role to not be glamorous, and the role is truly evil. So what are we saying? Are we forgiving evil if it's genius? Is that okay? So Hitler was alright?"
Henri will next appear on stage at the Ensemble Theatre's production of Lionel Goldstein's Halpern & Johnson,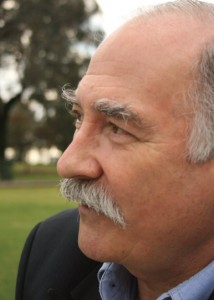 in which he will share the stage with Garry McDonald, his former co-star on Mother And Son. He has more performances in the works, but won't reveal details for now.     "I can't say what it's going to be about, but I will tell you this: I'm already learning to play the bongos," he says conspiratorially. It's certainly intriguing, but we'll have to wait until next April to find out the details. True to his word, when Henri wraps up, he leaves without saying goodbye.