She began her career in fashion as a young teen, so it's little surprise this Australian icon knows everything there is to learn about the industry, and that she's taking the world by storm with her own clothing labe.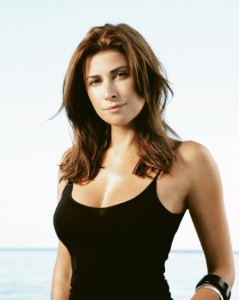 World-famous swimsuit model and owner of clothing brand Tigerlily, Jodhi Meares is a busy woman. She's in the middle of selling her next season's stock to Saks Fifth Avenue in New York, hiring new staff, seeing local clients, designing her next collection and filming for Australia's Next Top Model. She's so busy that she tends to speak a mile a minute, trying to squeeze as much as she possibly can into as little time as possible. With a schedule as packed as hers, it's not surprising.
Jodhi began her modelling career at the very tender age of 14, and got her big break when she was chosen as a Moove milk model at the age of 16. She prowled catwalks all over the world, but her dream all the while was to start her own swimwear company.     "I grew up at the beach," she says. "I've still even got the first bikini I ever owned. I was three and it was a crocheted bikini with a strawberry on the bum … I started modelling at 14 and began working with a lot of swimwear companies and really fell in love with the surf industry and the whole culture of swimwear. And it was what I decided I wanted to do when I was about 15, you know, when I grew up."
In 2000, her dream was realised when she launched Tigerlily swimwear, named after the Peter Pan character who inspired Jodhi as a child. "When I was little, there weren't very many olive-skinned princesses. So when I was playing I was always Tigerlily, who was the Indian princess. I loved her, she was really cool, she took on Captain Hook."
Today, Tigerlily is stocked in exclusive boutiques as well as David Jones branches in Australia and various fashion outlets throughout Japan, Singapore and America, where Jodhi is currently focusing her attention. "I've always thought in big terms for Tigerlily. It's part of who I am. So my plan is definitely for world domination."     Although her swimwear has graced the beach bodies of celebrities such as Nicole Richie and Cameron Diaz, Jodhi's fondest memory to date is seeing her design on an everyday surf lover at her local beach. "I think the highlight so far for me was the first time I saw somebody at Bondi Beach in Tigerlily. It was a huge moment, it was just amazing."
Tigerlily's popularity has been analysed by many in the competitive fashion industry. Jodhi chalks it up to her own passion for swimwear and beach culture, as well as her determination to make each design unique.     "I'll sit around on the Lower East Side in Manhattan and watch all the amazing young things who adapt trends early or literally come up with their own. I'll sit and watch them for inspiration.
"Tigerlily is a heavily-designed brand. Every print is unique to the company, all the design features are unique, and it's about the beach. Even in winter when we're designing a hoodie it's got to reflect some sort of sense of beach culture and Australian culture. That's driven into the brand and into each product."
Her success is largely due to a determination to be hands-on in her business and micromanage all aspects herself, despite exponential growth that may usually lead successful designers to take a backseat.
"I designed for Tigerlily on my own for six years. The last couple of years I've had a few amazing young designers working with me. But I direct with them every print and fabric that's chosen … there's not one piece in this company that would go through without my approval and without me being involved."     There is no doubt Jodhi is a swimsuit expert, but the advice she gives those looking for the perfect bikini this summer season is very simple.
"Cut size is incredibly important because women come in so many different wonderful shapes and sizes," she says. "But the most important thing is you should fall in love with a swimsuit and you should try on as many as possible. We try and design for all types of body shapes and sizes across the board, but you need to try on as many swimsuits as possible."
For someone so immersed in the fashion industry, Jodhi has incredible perspective. She is profound when describing her life as busy, but not stressful. "Being busy is fine," she says, "but being stressed is a different thing. Stress only comes when things are going wrong. Being busy is not a drama. I could work 80 hours a week without one problem if things are going smoothly. When they're not going too smoothly you can do a 30-hour week and be exhausted."     With that opinion in mind, then, it's no wonder Jodhi Meares sounds perfectly well-rested.