Despite selling over 60,000 copies of her first record and the same number again for her second, as well as recently returning from a sell out tour, Sarah Blasko is hard on herself.
Her second album, What the Sea Wants the Sea Will Have, was released late last year and debuted at Number 7 on the national ARIA chart. It has already surpassed gold album sales and a platinum album (awarded when sales hit the 70,000 mark) is within her grasp.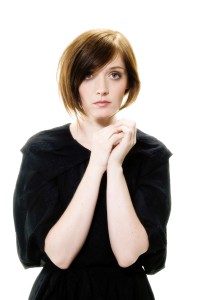 What the Sea Wants is darker than her first offering, the ARIA-nominated The Overture & The Underscore. It takes a more experimental path as she explores the idea of fatalism, the belief that events are predetermined and therefore inevitable, and the result is less poppy, less electronic and more subdued than her critically-acclaimed debut.
Blasko's song writing is sublime and the lyrics on this album reflect the growing maturity of this Australian singer-songwriter. Her voice may not be the strongest in the business but she knows exactly how to use it. On this new album, it airily glides over a medley of strings, keyboards, guitar and drums, undulating across a musical landscape in which a lot of the songs have no discernable chorus, hook or strong melody. She describes them as explorations of her imagination: they are freewheeling, whimsical and at times unpredictable.
Softly spoken but not timid, Blasko does not shy away from speaking about her emotions. Her eyes wander about the room as she thinks out loud. Deep thoughts are interspersed with short bursts of nervous laughter, perhaps when she feels she has given too much away. She likes music with mystery, where you don't know exactly what the songs are about, but they communicate a sentiment.
"A lot of the songs were about coming to terms with the fact that I don't have a lot of control over my life," she says as she anxiously shifts in her chair. "You can feel so bogged down by this overwhelming feeling that you should be doing more, or that you could be doing this or you regret the things that have happened and you think 'why did I do that?' You beat yourself up about everything." To her, the songs were a way of purging these feelings.
Blasko agrees that she is hard on herself. She lets out another giggle and confesses that she is bad at sitting back and letting things simply run their course. Instead, she feels the need to resolve turmoil instantly. "You have to just give yourself a break," she says. "You have just got to let time take over."
She rethinks. Her sentences roll one into the next, from confessing to justifying herself. "If you were complacent and weren't constantly questioning something, then you would have nothing to write about," she pauses. "Part of music and art is a yearning or a longing for something."
This yearning, this longing that is so deeply entwined in her music is something she believes she must revisit to give her live performances sincerity. Her music is visceral and the tunes perfectly complement the anguish conveyed in the lyrics. In her own words: "it sort of has sensitivity to it and a kind of fragile quality. But there is kind of a lot of pain… and slight bursts of anger."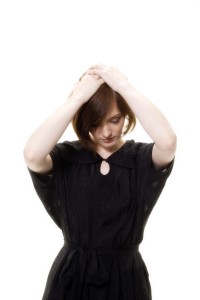 So far she doesn't think it a burden to return to the emotions she purged in the song-writing process. Her lyrics are introspective, poetic and personal. Like the jottings in her journal, they attempt to make sense of life, love, remorse and the inevitable parting of lovers. One can imagine listening to the album alone, locked in a bedroom reminiscing about past loves and recounting regrets. "To me, it is pretty important to feel like it is coming from a genuine place."
What the Sea Wants is a departure from the usual recording process. Rather than recording individual tracks and layering them as she had done on her first album, Blasko took a band into a converted ballroom and recorded the tracks live. She believes that capturing the tracks in this way brings a closer connection between what the music is like live and what is recorded.
"You capture a certain intangible magic," she giggles. "When four people are in a room playing together… things are leaking into one another. You can't just keep the drums take and not the bass take. You have to take it or leave it."
"It is not necessarily the most perfect take where everyone got it right; whereas it is this certain thing that happened, where at a certain point it really clicked."
The album was recorded at Neil Finn's Roundhead Studios in Auckland, New Zealand, and has an impressive pedigree: it's produced by Jim Moginie (Midnight Oil) and mixed by Victor Van Vugt, who has worked with Australian music royalty Nick Cave and The Go-Betweens.
Neil Finn clearly a strong hold on Blasko. In 2005 she recorded the Finn-penned hit 'Don't dream it's over' for the tribute album She will have her way: the songs of Tim and Neil Finn. It also features songs by Renee Geyer, Kasey Chambers and Missy Higgins. And in March last year she performed his song at the closing ceremony for the Commonwealth Games in Melbourne, watched on Channel Nine by an estimated 2.79 million people.
For all her thinking, Blasko's art is intuitive. When she started writing What the Sea Wants certain experimentations grabbed her and the general path of the album appeared.
"You just sort of write what you feel," she says. "I don't really try to plan it. I just do what makes sense to me."
The sea and nature are common motifs that weave their way through the songs on What the Sea Wants. "The forces of nature are very strong," Blasko says looking down. "We are all very weak and little in the scheme of things."
Ironically, for someone who places a lot of pressure on herself, she relishes in the eccentricities found within her music and her live performances, those little quirks that change from show to show. For this reason she enjoys playing in smaller venues. "Small venues are a little more idiosyncratic. It is nice to be able to share those things with the crowd," she says. "You don't need extra lighting and a huge sound system; it is very bare."
When she's on stage she jolts about. Her friends – perhaps unkindly – describe her dance style as robotic. Blasko herself says her moves are a mixture of intuition and inspiration from musicals. "I have always liked that kind of dream world in musicals", she says, and indeed this affection is reflected in the dream-like quality of her album. "I can't dance really. I can't dance any choreographed moves so I kind of make things up a little along those lines. I just do what makes sense with the music, to me that is, what I naturally feel like doing."
Every article written about Blasko emphasises that she learnt to sing in church wedged between her tone-deaf mother and the rest of her family. She is bored with constantly being asked about her religious upbringing and disappointed that's how people choose to define her. "It is certainly not an unusual thing for people to grow up in church. My childhood was a little unusual because we went to so many types of churches."
She says she can credit top 40 radio as exerting just as much an influence on her musical upbringing as religion, because she listened to it constantly growing up. "I should make up a new story; make up some elaborate tale about my life."
Blasko also listened to classical music and soundtracks from her father's eclectic and somewhat eccentric record collection. Lately, she has been listening to the stripped-back tunes and simple melodies of the blues, and the songs that she has been writing recently reflect those qualities. "I don't know where that is all going to fit in, but I think what I respect about this type of music is the sincerity."
At the end of March she will take the new songs on the road for a national tour, with an ensemble of guitar, piano, percussion, strings, flutes and horns. There will also be special guests performing on stage with her in each capital city. The tour will take in Brisbane, Melbourne, Adelaide and Perth, before finishing up with three shows at the York Theatre in Sydney's Seymour Centre on April 18, 19 and 20. In a move that will delight fans, instead of bringing along a support band to open for her, Blasko is going to play an extended set that features songs from both of her critically-acclaimed albums.
Looking ahead, Blasko's ambition is simple: "to write better songs." She wants to challenge herself and not become complacent or comfortable about her music, however, there is no chance of that happening anytime soon. "Just feeling like you are progressing is really important." Click here for more information.