Once one of the most popular politicians in Australia, then one of the most derided, Cheryl Kernot's political career has had more ups and downs than Kevin Rudd's temper tantrums. The former leader of the Democrats talks candidly about the circumstances surrounding the scandal that almost destroyed her political legacy, and the past, present and future of Australian politics.
Zoya Sheftalovich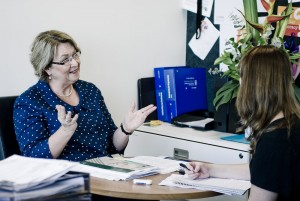 The year is 1996, and leader of the Australian Democrats and senator for Queensland Cheryl Kernot is at the height of her popularity. Garnering an unprecedented 13 per cent of the primaries in a year when the voters overwhelmingly bring a bright-eyed and bushy-browed John Howard to power, Kernot is a rock star of politics.
1997, merely a year later, and Kernot shocks her (soon to be former) party and the Australian public when she defects from the Democrats and becomes the ALP's star recruit. In 1998, she contests the marginal seat of Dickson and, against all odds, wins. She is the poster-girl of girl-power, the feisty blonde protector of all that is just, she's keeping the bastards honest while at the same time posing in that provocative red dress on the cover of Women's Weekly. She seems unstoppable.
Yet, inevitably, she is stopped. In a descent that begins with a media backlash following her 1998 victory, peaks in the crushing loss of Dickson in 2001, and explodes in a personal crisis brought on by salacious revelations of an affair with a fellow politician in 2002, Kernot loses her place as the princess of politics and is massacred by the same media that formerly fawned over her every move. Tail seemingly between her legs, Kernot leaves politics and Australia, bound for academia at Oxford University's Skoll Centre for Social Entrepreneurs.
Fast forward to 2008, and Kernot is back from her self-imposed exile, having returned to Australia and taken up the position as the director of teaching and learning at the new Centre for Social Impact, based at the University of New South Wales. And on a sunny day in 2009, six months after her return, Kernot, now 60, discusses the highs and lows of her political career, and her optimistic vision for the future of global commerce.
Kernot was born to lead. Her first taste of election victory came when she was voted captain of her primary school. A few years later Kernot won Maitland's Youth of the Year competition, and impressed local politician Milton Morris, who first suggested she enter politics. So it's no surprise that, despite the fact she spent her early career as a schoolteacher in NSW and Queensland, Kernot found herself drawn to the lure of public office.
"I've always been a policy ideas person. I was born with that strong inclination to be part of the national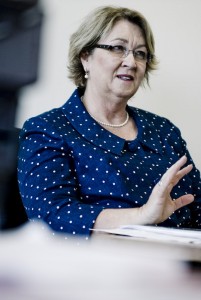 conversation."
Kernot entered politics with a bang. She was first elected a Democrats senator in the 1990 election, and immediately expressed disapproval with leader Janet Powell. She was said to have been instrumental in the dumping of Powell in favour of John Coulter. Then, after the 1993 election, Kernot won the leadership position and took control of the party, and so began her giddying climb in the popularity stakes.
"I think I had the advantage of being the female leader. I think there's something Australian about supporting the watchdog in the upper house – there's an inherent mistrust of the two major parties," she says of her remarkable success.
But despite the fact that under her leadership the Democrats garnered unprecedented power, Kernot soon grew unsatisfied with the direction the party was taking.
"They used to call us third party insurance. But in the end having that role was extremely limiting, because it says you don't have policies on your own, you only sit in judgment in keeping the others honest. And I think there has to be more to your existence than that. For me personally, there had to be more to the existence of any party than that."
Finally, Kernot says, she had to make a difficult choice.
"For a lot of people just having balance of power and some perception of power would be enough, but that wasn't why I was in politics. I grew very uncomfortable and restless. I thought being in an alternative government was one reasonable possibility. The other alternative for me would've been to have left politics, to have said 'I'm finding it quite meaningless.'"
So she did the unthinkable. At the height of Australia's love affair with Kernot, at a time when "keeping the bastards honest" was a catchcry on the lips of millions, she jumped ship, quitting the Democrats and joining the Australian Labor Party (ALP).
In her resignation speech, delivered on October 15, 1997, Kernot ended her seven years as a senator on what was to prove a prophetic note:
"Obviously, being a creature of one political culture moving into another, there are no guarantees for me. Perhaps this experiment will fail. Perhaps there will be no viable role for me within the Labor Party. Perhaps it will not be possible to re-invent Government and politics the way I believe – and I think millions of Australians sense – should happen. But I have decided to make the effort and try. I want to support Kim Beazley and play a role in the policy rethink and make whatever contribution is required strategically."
Though she had turned her back on the party that had brought her to the dazzling heights of celebrity, surprisingly, support for Kernot only seemed to grow. Kim Beazley, then leader of the ALP, said he believed Kernot would win him the next election. He compared his experience of being in public with Kernot to that of Prince Charles with Princess Diana. Yet despite appearances, cracks in the façade appeared almost immediately. After winning the hotly contested marginal seat of Dickson in 1998, Kernot found herself abandoned by the same party that had so furiously courted her a year earlier.
"What I didn't understand was that the Labor party machinery had a plan on how best to use me in that election, so you know I went around the country for the whole of 1998 before the election, campaigning with candidates everywhere. But once I was elected, the actual team under Kim Beazley did not have a clear plan, nor did they particularly care about not having a plan, for how to best integrate me into the team."
It is clear that even a decade on, the hurt of being left to sink or swim in the marginal seat has not faded.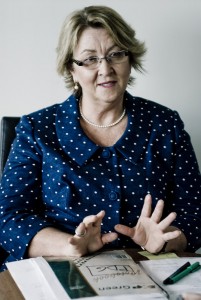 "Once they've got you, and the goodwill you might bring with you, I think they fail to recognise that if they don't value the new assets, that would work against them in some ways as well."
"I didn't have a media advisor of my own. Even when all the media scrutiny was on me, I didn't have the kind of personnel support that might've been quite helpful for all of us… there was a combination of suspicion and hostility from some in the party, and a lack of mentoring or legitimisation of me on the front bench by Kim Beazley, who made a lot of promises to me that didn't eventuate. I mean I was promised that I'd be part of their strategy group, but I never was," she says. "In the end I was quite debilitated by the de-tribalisation of moving from the Democrats to Labor."
In fact, Kernot compares her time with the ALP with that of Peter Garrett's, a more recent star recruit.
"It's interesting to watch Peter," she muses. "At one level he's the beneficiary of some of my own trials, in that the Labor Party gave him a safe seat, they didn't say to him 'go out and prove yourself in a marginal seat', so I envy him that on one level. On the other hand, I think when you've got such strongly held political positions on the public record it's really hard to then, within a government, not to be able to speak in support of what you believed, or to go against it. I hope he's really enjoying himself in what he's doing, I hope he feels it's worthwhile, because I think he's paid a huge price at the credibility level."
She doesn't, however, blame Garrett for his apparent bacflips in regards to social and environmental policy.
"I think unless you can convince [Kevin Rudd, Julia Gillard, Lindsay Tanner and Wayne Swan] that what you're saying is mainstream, you don't get a look in, no matter how fervently you might argue. Because they have their own agenda of what the country can afford, what the priorities are. It's not particularly democratic in that respect, and I don't think Australians really understand the internal workings of either of the major parties in terms of what's possible for individuals to advocate."
Unable to "get a look in", disenchanted with the party and severely understaffed, it came as no surprise that despite her former cult status, the public's love affair with Kernot began to wane. In 2001, she lost her seat, and for the first time in 11 years, found herself on the periphery of the political arena.
In 2002, she wrote her memoirs, Speaking for Myself Again, explaining her decision to leave the Democrats and writing of her turbulent relationship with members of the ALP after her defection. She spoke of her disappointment with the way in which her entry into the party was handled.
It would prove to be a career-suicide.
In response to what he saw as an unacceptable omission from the memoirs, political journalist Laurie Oaks revealed that Kernot had been having an affair with former deputy of the ALP, Gareth Evans. In an article published in the July 3 edition of The Bulletin, Oaks wrote:
"For a long time now, some members of the Fourth Estate have been aware of the biggest secret in Kernot's life. If made public, it would cause a lot of people to view her defection from the Australian Democrats to the Labor Party in a different light… While it is one thing for journalists to stay away from such a matter, however, it is quite another for Kernot herself to pretend it does not exist when she pens what purports to be the true story of her ill-fated change of party allegiance."
Kernot does not like to talk of the dark period that followed the revelation. A period when she was rumoured to have had an emotional breakdown, when she was photographed incognito, attempting to evade the flashing lights of the circling media. In an interview three weeks after the allegations surfaced, Kernot said she felt like Salman Rushdie hiding from the fatwa.
Now Kernot laments the media reaction to the scandal, but insists that, in contrast, the reaction of the Australian public was overwhelmingly positive.
"I really love the French, they say 'who cares, what we're focussing on is how they do their job'… but I can't overemphasise the difference between what people believe is reasonable and what the media insists is still the script in this country, there's a huge disconnect there. I can't tell you how many emails of support I got."
After the crushing blow of losing the 2001 election and the difficult year that followed, Kernot left Australia for London, where she took up a position as an academic at Oxford University's Skoll Centre for Social Entrepreneurs. She has since rejected the idea that she ran away, instead insisting that the career shift was important in her healing process, and staying in Australia was too difficult because, she says, she couldn't find a job.
"I didn't leave necessarily by choice, I lost my seat, I wasn't really planning for that to happen… and male politicians are much better at securing their exit strategies than female politicians. I think a lot of men, and I think about Bob Carr when I say this, they make up their mind they're going to leave, and then they plan. Put the feelers out, give people an idea that they're thinking about it, just quietly, behind the scenes, so they have something to go to when they leave… and a lot of places shy away from hiring former politicians, they think that it gives a signal about the political leanings of the company."
The new job, it turned out, was a perfect fit. The Skoll Centre is at the forefront of social entrepreneurship, which develops social enterprise projects to reinvigorate disadvantaged communities, and drives social innovation by building the profit-making capacity of socially and environmentally responsible corporations. "There's an old hangover: that all profit of capitalism is bad. It's a changing world."
But though she had left Australia behind, she never completely divorced herself from the nation's policy.
"It took me years to get over not being involved in the processes. I mean I'd send all sorts of policy stuff by email home to anybody who might want to listen in the Labor party or in the Democrats."
Her return to Australia in 2008 was a result of a general weariness with the hectic London pace, and a desire to share her newfound knowledge.
"One morning I woke up and thought, 'I just don't think I can get on another peak hour, cramped tube.' There was a coincidence with a new Labor government here and a sense that I'd probably learnt a lot that I wanted to bring back and share. It was a combination of those things."
So she applied for the job of Director of Teaching and Learning at the newly-founded Centre for Social Impact and after going through a rigorous interview process, was hired.
"I saw an article that Peter Shergold, the currect CEO of the Centre, had written. It was an excerpt of the speech he'd given at his retirement, and I thought 'we're talking the same language, that sounds amazingly like where I'd like to be'… then I saw the job ad, went through the process – I wasn't headhunted – and was employed."
Being back in Australia has reignited Kernot's passion for local policy, but she says a return to politics is unlikely.
"I doubt it," she laughs when asked if she'd consider another spin round the political dance floor. "I'm too old, I'm getting older… I just don't think I am prepared to play politics the way it's played. So that's probably the biggest barrier to my re-entry. I just couldn't sit on the other side and follow the script the way you're meant to. That's not in me."
"I've also discovered that since being in this job I get so many invitations, I feel like I'm in a previous life but without the staff and without all of that sniping and criticism that comes from the media. So I get to go out and be a policy advocate and communicator of what I think is social change that's happening all around the world, and I really enjoy it."
Cheryl Kernot remains one of the most colourful figures in the history of Australian politics. Within the space of a decade she drove the Australian Democrats to their most resounding victory at any election, reinvigorated a flagging ALP, then crashed and burned at the media altar.
Yet despite being hounded by the media, her private life exposed, her integrity questioned, she still doesn't back down from the choices she made.
"Sometimes I think, 'what have I done that's lasting?' Life's too short to not do something."
"Do I regret it? You know, I haven't completely made up my mind on that, even with the benefit of this many years hindsight. On balance at the moment I don't regret it, because even with its difficulties and challenges, I was in both houses of parliament, and not many people can say that. Fewer people can say they've been the leader of a small balance of power party, and a shadow minister in an alternative government. So I regard all of that as invaluable, but often costly, learning.