One of the true fine dining experiences in Sydney, Bathers' Pavilion is the pearl of Balmoral Beach. By CHRISTINE PAUL.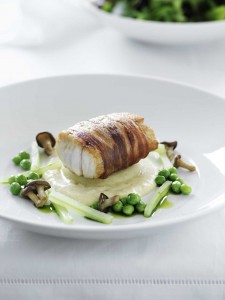 A widely recognised icon in the international food industry and arguably Quebec's most famous chef, Serge Dansereau is also one of Australia's leading culinary experts.
At his prestigious restaurant overlooking beautiful Balmoral Beach in Sydney diners expect much from this master of cuisine and unfailingly, Serge delivers in spades.
Bathers' Pavilion is a comfortable yet sophisticated dining mecca filled with natural light. Food in the cafe and the renowned fine dining restaurant boasts a menu that is responsive to seasonal offerings, treasures of the deep and European culinary traditions.
Around fifteen minutes from the city, Bathers' offers 180-degree panoramic views across Balmoral Beach and Middle Harbour.
Built by Mosman Council in 1921 as a beach changing shed, the building is Spanish Mission in style with Moorish overtones. It received a Heritage Order in 1993 – after extensive work the building has been highly acclaimed as a heritage sensitive, yet contemporary, renovation.
Many visitors will be forgiven for consuming three courses and staying on to linger over coffee, rare wines and digestives. "A little more" encapsulates much of the Bathers' philosophy with a focus on creating a unique and memorable eating experience with warm, friendly and informed service.
"Our food is appropriate to our surroundings," says Serge Dansereau who has been with the restaurant for 10 years. "Both the food and wine lists have a close relationship with the seasons and change accordingly. They reflect Bathers' special relationships with small producers and growers."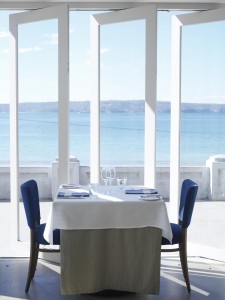 Serge's enigmatic and sophisticated style has led him to not only create flavours to entice any palate, but also an iconic restaurant and café within which to relax and savour the experience.
The restaurant offers an elegant fine dining experience with foods of distinction. The café, open throughout the day for breakfast, lunch, dinner and in-between, is more informal and relaxed.
In addition, Serge has recently created The Kiosk, which backs right onto the beach, but is still situated within the Pavilion.  This gourmet delight offers a wide selection of juices, sandwiches, pies, quiches, coffee and delicious gelato and serves the culinary needs of beachgoers, tourists and locals alike.
Serge's signature offering at Bathers' is known as the Chef's Table dinner experience. The Chef's Table offers groups of 12-16 guests the opportunity to experience the gastronomic delights of a wide range of Bathers' dishes, with specially matched wines, along with a tour of the Bathers' kitchen.  The Chef's Table is hosted by Serge himself and offers insight into the behind the scenes operations of The Bathers' Pavilion.  Serge created this event many years ago while at Kable's at The Regent, Sydney and the legend continues.
Serge's awards are many, and most recently include:
* The Fifth Annual New World of Food & Wine Festival 2001
–    Lifetime Achievement Award for Food & Beverage Excellence
–    Presented by The Ritz-Carlton Millenia Singapore
Distinguished Representative of the Food & Beverage Fraternity
* Tourism Training Australia, Tourism Champion presented to Serge Dansereau for outstanding achievement (October 2003)
* 2005 Tasting Australia Hall of Fame
* Australian Gourmet Traveller Magazine "Outstanding contribution to the industry" Award
*2006 named one of "30 French Canadians that have made a difference to the world" in L'Actualité Magazine
He has written four books, with the most recent – Menus and Recipes – released in November 2006.  Currently he is working on a new title – French Kitchen – based on French food to cook at home. This will be released in late 2010.
In addition, Serge has always been associated with charity groups, donating his time, skill and venue to assist fundraising efforts for The Starlight Foundation, The Humpty Dumpty Foundation and Opera Australia, to name a few.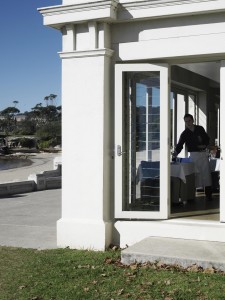 A vision to succeed
Serge first began his culinary career as a kitchen hand in Montreal, where his persuasive willingness gave him a good future in cooking. He was accepted at the prestigious Institut de Tourisme et d' hôtellerie du Québec in 1974, completing his diploma in Cuisine Professionnelle in 1976.
In 1983, Serge accepted a proposition to help open the newly built Regent, Sydney. The hotel was led by the visionary Ted Wright, a forward thinker and great hotelier. He was 26. His charter was to metamorphose the Regent's restaurant Kable's into a restaurant within a hotel not a hotel restaurant. Excellence was to take precedence over the bottom line; after one year, Dansereau was appointed Executive Chef of The Regent, Sydney and Kable's quickly became a legend.
Serge is a detailer, a people's person who sees food in a context where it is part of the quality of life.
"I believe great food requires a great palate of quality ingredients so I always use fresh, seasonal produce," he says. "I regularly head to the markets to source different varieties of fresh and handmade produce like wild mushrooms, exotic herbs and lettuces, farmhouse cheeses, unusual seafood, baby lambs, traditional game and a whole new selection of quality market vegetables."
"We make our own butter, breads and sauces. We have eight pastry chefs and are one of the few remaining restaurants in Sydney to create everything we serve on our own premises," Serge says.
In 1994, he was the recipient of the Sydney Morning Herald Special Award For Excellence "for his work in helping redefine Australian cuisine, his passion for produce and his promotion of regionalism."
To the delight of fine food connoisseurs here and around the world, today, Serge continues to create fine cuisine in this same tradition.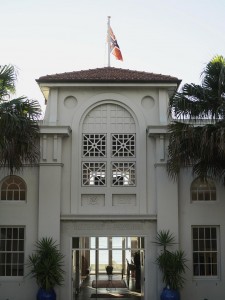 Dine in style at Bathers' Pavilion
BATHERS' BAR
The main entrance leads straight into the bar in the centre of the building. Open all day for coffee, a selection of teas, cocktails, champagne and wine by the glass and a light bar menu.
BATHERS' CAFE
Open all day, every day, for breakfast, lunch and dinner or something light in-between. The cafe serves Mediterranean style food in a casual atmosphere. Different experiences can be had by choosing to sit at the communal table; sharing a cushioned booth; taking in the view at the oval tables for two or lingering in the Red Room over a coffee and pastries or cake. All wines are served by the glass. Also licensed. There is an open fireplace for cooler nights. No bookings.
BATHERS ' RESTAURANT
The Restaurant is comfortable, yet with the feeling of understated elegance. The emphasis is on fresh produce. Enjoy the open fireplace as you choose from the extensive wine list that includes a great choice of Australian and imported wines, both current and older vintages. Wines by the glass. Open for lunch and dinner every day.
BATHERS' ROOM AND TERRACE
The private dining Room, on the upper level, overlooks Balmoral's sandy shoreline and is adjacent to our open Terrace where you can have drinks or a meal outside in fine weather. Seating from ten to one hundred and two. Open fireplace.
For bookings telephone: (02) 9969 5050 or for more information, click here.