It's late in the afternoon and Stephanie Alexander, celebrity chef and cookbook author extraordinaire, is winding down after a day chock-full of interviews and appearances.
Zoya Sheftalovich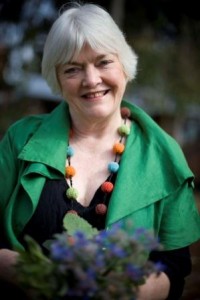 She is halfway through a book tour for her latest literary offering, Kitchen Garden Companion, and her smiling face, topped with her signature short crop of grey hair and punctuated by feline eyes, has been popping up everywhere. "I feel a little bit like a parcel going from pillar to post," she says as she settles in for a chat.
Alexander has been on the forefront of the Australian food scene for over 45 years. She has owned and operated a hugely successful restaurant, written numerous cookbooks and has appeared on countless television programs. It's difficult to imagine the culinary world without her.
Yet such a scenario was a very real possibility. When she finished school Alexander didn't even consider a career as a chef, instead she worked as a librarian.
"Food was always the thing that gave me most pleasure but it didn't occur to me, or my parents, or my teachers, that this could be something I would do professionally," she says. "At the end of my secondary schooling, females were either going to be teachers or nurses and I didn't want to be a teacher or a nurse. Because I loved books and had been very involved in the local library I thought that might be a good idea."
In 1958 Alexander went to university to study arts, and upon finishing, left Australia bound for France, a country she had always longed to visit. She lived and worked as an au pair for six months, and above all else, admired the French approach to meals. Alexander credits her time in France as the inspiration for her eventual career in the food industry.
"I have always been a Francophile even before I got there, which is ridiculous," she says, laughing warmly. "But when I got there, it lived up to all the things that I had expected France to be. I learnt so much about the way an ordinary, middle-class, working family went about feeding themselves. It was to do with the way they shopped, the rapport they had with the shopkeeper, the respect with which they treated ingredients, the balance that was always present in every meal every night."
Her time in France came to an end and Alexander made the traditional Aussie move to London, where she worked at the BBC library and met and married her first husband, Monty. They soon departed for Melbourne, where they opened a café together.
"The thing is, throughout all the years that I was working really happily in libraries, I cooked. I always cooked. I loved cooking. And I more or less fell into having my first restaurant experience through marrying somebody who thought it would be a good idea to have a little coffee lounge, and the rest is history."
The café, Jamaica House, didn't last and neither did her first marriage, but Alexander's desire to pursue a career in the food industry did. Though she went back to working as a librarian, it was only a matter of time before she returned to her passion.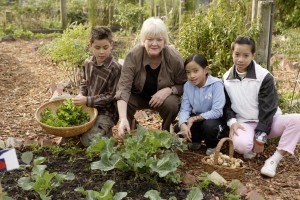 Alexander opened Stephanie's Restaurant in 1976. Starting out in a small shopfront on Brunswick Street before moving to the high-end of town, it was to become a Melbourne institution.
"Because I was an owner-chef I could really call the shots," she says, displaying some of the competitiveness she is known for. "By the time Stephanie's first opened in 1976 it was a very auspicious time for people who wanted to have their own style of restaurant, because up until that point well-known restaurants tended to be run by European men, and they were quite expensive and they were very formal.
"But along came a group of people like Tony Bilson, like Mietta O'Donnell, like me, who all felt they had something to say and they were able to start their own sort of restaurant. Because they were the owners they could do exactly what they liked. So it was a great period of freedom."
While she was running the restaurant, Alexander kept records of all the ingredients and recipes at Stephanie's, noting any changes in the dishes – information she meticulously referenced on system cards. She would later use these notes to write her prolific cookbooks.
"There came a point where I thought I'd like to write down why I cooked the way I did, why I combined this with that. The first few books I wrote were really about deconstructing the menus at Stephanie's Restaurant, referring to travel experience, showing how they influenced the way I cooked … and I found people really loved to read them."
But while her earlier books were popular, it wasn't until 1996 that Alexander would publish the cookbook that elevated her to cult status. The Cook's Companion was a hefty 1100-page food encyclopedia, incorporating information on ingredients, recipes, cooking techniques as well as hints and tips, all cross-referenced for ease-of-use. It has sold over 400,000 copies to date.
Alexander believes the book was so popular because of its friendly, simple advice – it was literally like having a friend in the kitchen.
"I think that book is a massive success because people trust it, they see it as like having a friendly hand in the kitchen," she explains. "It makes no assumptions that the reader knows all the answers, nor does it talk down to people. I've really tried to be a friend in the kitchen and to banish anxiety.
"A lot of people were never taught to cook by their parents. So they came into being a young adult with absolutely no clue about what to do with an apple or an eggplant if they wanted to cook with it. And I told them what to do in a way that was friendly and encouraging."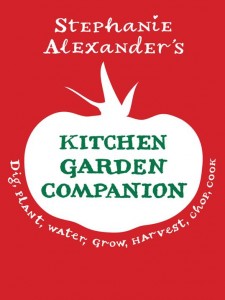 It was after the success of The Cook's Companion that Alexander made the difficult decision to close Stephanie's Restaurant. Twenty-one years after she had first energetically burst onto the scene, the strain of personally running affairs became too physically taxing.
"Quite apart from having the creativity, it really requires enormous stamina and once I didn't want to do it myself there seemed little point," she says. "There's no question in my mind that running a restaurant and being in the kitchen and directing operations and really cooking on the stove is a job for somebody much younger than me. I don't think you'll find very many chefs over the age of 50 who are actually doing it every day and every night."
After closing the restaurant, Alexander finally had the freedom to pursue her greatest passion – teaching children the importance of fresh, local ingredients and changing the eating habits of a generation of Australians. Her life for the past 10 years, she says, has been consumed with propagating and supporting the Stephanie Alexander Kitchen Garden Foundation, which teaches children to grow, harvest and cook fresh food in school.
"I do believe it's a wonderful thing to encourage people to understand that not everything is available every month of the year, and that's the way it should be. People should learn to wait for the moment of the best tomatoes, love them when we get them, have them for three or four months, and then be aware that during the winter tomatoes are rubbish. Fresh food is the best food."
The Kitchen Garden program, Alexander says, is an important way to change children's eating and shopping habits.
"What I'm trying to do is institute, promote and support a hands-on program. It's part of the worldwide movement throughout the developed world to live more sustainably," she says. "People realise that they probably can't influence global politics and that makes many people feel a bit helpless, but what they can do is influence how they live themselves. I'm encouraging them to realise that one of the things people can do is to grow some of their own food, and I'm encouraging families to do it together."
Kitchen Garden Companion is a means of bringing that same learning experience to those who don't get a chance to experience the program itself.
"The book has grown out of the work with the schools because only a small number of schools are able to get a grant and because I think it is the way to change behaviour. I wanted to write a book that gave the same messages to everybody," Alexander says of her motivation.
"I want to say to everyone in Australia, 'You can have a go too, you can grow some of your own food even if you live in a small apartment. Give that experience to your kids too, because they will benefit forever'."